This page contains popular collections to work on throughout the year.
Gift Stash
I will be posting patterns for gift ideas every week, grouped in sets by month. These patterns will be made up of new and previously released designs and will be free on my blog.
HOW MANY PATTERNS? We will be making 12 gift sets this year (not 52 patterns). Each set will consist of 3-4 patterns, brand new releases and some oldie-but-goodies.
To create a gift stash for a variety of people and occasions, I hope to include a wide variety of projects. My goal is for all of us to have lots of handmade gifts to give throughout the year and next holiday season.
March
This month's gift set: Abigail's Accessory Set
February
This month's gift set: towels and potholders
Farmhouse Hanging Towel (the towel and washcloth are at the same link)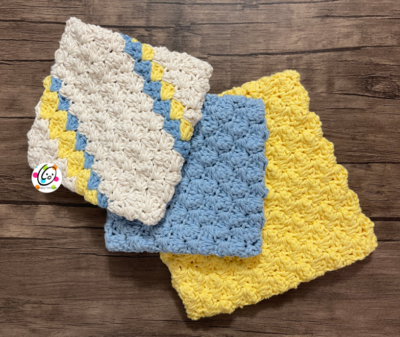 January
This month's gift set is a cozy winter set made from worsted weight acrylic yarn.

---
Ducke and Goose Outfits
Last year for Christmas I got a pet goose and gave one to my parents. Mine (because I keep calling it a duck) is named "Ducke", pronounced Duke. My parent's named theirs… wait for it… "Goose". Last spring I started designing some clothes for our geese and people started going crazy wanting to dress their own geese. It has been SO FUN!!! I even cleared up my schedule a bit so I could have time to put out more patterns for our new pets. My plan is to put out some basic things people can use to mix and match for making new outfits. PLUS, more holiday things.
All of the patterns can be found at this link plus I will list them below in sections. The patterns are free to follow on my blog. A downloadable pdf is available for some of the patterns for a small fee.
Hats
Outfits
Accessories
These are designed for a 23" goose statue.
---
Quests from 2021
These have been completed, but were fabulous and would still be fun to create week by week.
Ornaments
Each Thursday in 2021, I posted a different ornament so we could have a fun collection at the end of the year. All of the weekly ornaments will be free to view online (as long as the designer keeps them on their blogs).
Weeks 1 & 2: The first two Thursdays of each month feature a variety of ornaments. 
Week 3: Since there are many cute snowflakes we chose a different one on the third Thursday of each month. These will be fun to hang in a window as well as on a tree.
Week 4: I also like using ornaments as gift tags so on the fourth Thursday of each month I featured an ornament that I think would be cute on a package. You can choose to do whatever you would like tho.
Extra: If there is a fifth thursday in a month I shared a garland.
---
 Week #1: January 7
Week #2: January 14
Week #3: January 21
Week #4: January 28
Week #5: February 4
Week #6: February 11
Week #7: February 18
Week #8: February 25
Week #9: March 4
Week #11: March 18
Week #12: March 25
Week #13: April 1
Week #14: April 8
Week #15: April 15
Week #16: April 22
Week #17: April 29
Week #18: May 6
Week #19: May 13
Week #20: May 20
Week #21: May 27
Week #22: June 3
Week #23: June 10
Week #24: June 17
Week #25: June 24
Week #26: July 1
Week #27: July 8
Week #28: July 15
Week #29: July 22
Week #30: July 29
Week #31: Aug 5
Week #32: Aug 12
Week #33: Aug 19
Week #34: Aug 26
Week #35: Sept 2
Week #36: Sept 9
Week #37: Sept 16
Week #38: Sept 23
Week #39: Sept. 30
Week #40: Oct. 7
Week #41: Oct 14
Week #42: Oct 21
Week #43: Oct 28
Week #44: Nov 4
Week #45: Nov 11
Week #46: Nov 18
Week #47: Nov 25
Week #48: Dec 2
Week #49: Dec 9
Week #50: Dec 16
Week #51: Dec 23
Week #52: Dec 29
---
Weekly Wash
---