Have red trucks always been a thing at Christmas? They are super cute, I just don't remember seeing them all over until the past couple of years. In my first year at college, I had a friend that drove a really old red truck. It was super cute and reminds me of the old trucks I see people making as blankets and ornaments like this "Red Truck Ornament" by "Maria's Blue Crayon".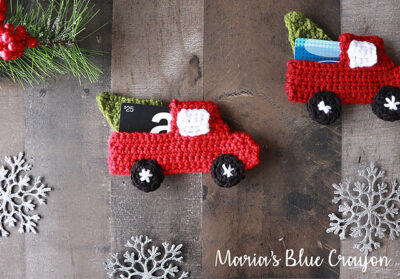 The Ornament Quest
Each Thursday in 2021, join me in making a different ornament so we can have a fun collection at the end of the year. All of the weekly ornaments will be free to view online. The links will be added to my "Calendar of Events" page for easy access.
Weeks 1 & 2: The first two Thursdays of each month will feature a variety of ornaments.
Week 3: Since there are many cute snowflakes I have chosen to feature a different one on the third Thursday of each month. These will be fun to hang in a window as well as on a tree.
Week 4: I also like using ornaments as gift tags so on the fourth Thursday of each month I will feature an ornament that I think would be cute on a package. You can choose to do whatever you would like tho.
Extra: Since there are TONS of really cute paid ornaments, I will be featuring those any time there is a fifth Thursday. Please remember patterns are not to be shared. Selling patterns is how designers make a living.
How the ornaments are chosen: I asked in our snappy facebook group, "Totally Snappy", for people to share links to ornaments they had seen and wish to make. I also wrote down some of my favorite ornaments people had made in our last ornament swap.
---
Red Truck Ornament Free Pattern
By Maria's Blue Crayon
The pattern for this ornament/gift card holder is available for free on the designer's blog: Red Truck Ornament
Snappy Rating

This was a quick and easy project. The pattern is very easy to follow and uses basic stitches. There are several pictures to show her assembly. I love my little red truck!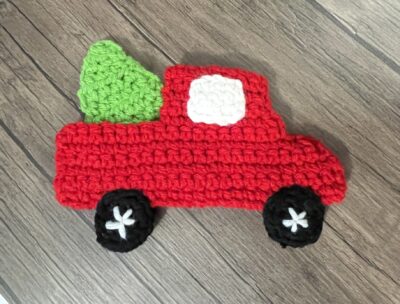 The list of materials below is from the designer's pattern page. Please visit her page for the complete pattern. CLICK HERE for the free pattern on her blog.
Materials Needed
Worsted weight yarn in red, white, black, green
G/4.00mm hook
Tapestry needle and scissors
Tips
The first time I did the "spokes" I created a snowflake-ish thing across the middle. It turned out pretty wonky (left wheel in photo below).
For the rest of the wheels, I worked each "spoke" from the middle spot on the wheel. I am much happier with those.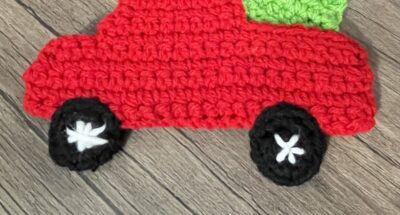 ---
Visit The Designer Online