Since it is February, I wanted to find a heart ornament that could also be used for Valentine's Day. I found the perfect one! This puffy, two-sided heart by AnnooCrochet is super easy to make and could be used for so many things. It does make a wonderful ornament, but is cute as a decoration too.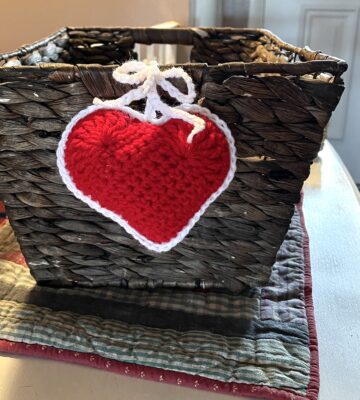 The puffy heart ornament is made from 2 hearts that would be really cute as a single heart too. They would be great used as appliques on hats, scarves or even on packages.
The Ornament Quest
Each Thursday in 2021, join me in making a different ornament so we can have a fun collection at the end of the year. All of the weekly ornaments will be free to view online. The links will be added to my "Calendar of Events" page for easy access.
Weeks 1 & 2: The first two Thursdays of each month will feature a variety of ornaments.
Week 3: Since there are many cute snowflakes I have chosen to feature a different one on the third Thursday of each month. These will be fun to hang in a window as well as on a tree.
Week 4: I also like using ornaments as gift tags so on the fourth Thursday of each month I will feature an ornament that I think would be cute on a package. You can choose to do whatever you would like tho.
Extra: Since there are TONS of really cute paid ornaments, I will be featuring those any time there is a fifth Thursday. Please remember patterns are not to be shared. Selling patterns is how designers make a living.
How the ornaments are chosen: I asked in our snappy facebook group, "Totally Snappy", for people to share links to ornaments they had seen and wish to make. I also wrote down some of my favorite ornaments people had made in our last ornament swap.
---
Heart Crochet Ornament Free Pattern
By AnnooCrochet Designs
The pattern for this ornament is available for free on the designer's blog: Heart Crochet Ornament
Snappy Rating
This was a quick and easy project. The pattern is very easy to follow and uses basic stitches. There are several pictures to show each step which makes this great for even beginners.
The list of materials below is from the designer's pattern page. Please visit her page for the complete pattern. CLICK HERE for the free pattern on her blog.
Materials
What you will need:
Hook 3.25 mm
Berocco orange, turquoise and green yarn
Tapestry needle
Polyfill
Tips
Hook size: I used a G hook (4.5mm) instead of the smaller one suggested in the pattern. I am not as comfortable working with small hooks and since I was using worsted weight yarn I felt this size would be ok. My heart ended up being 4.5″ across x 4″ high.
Final round: When working the final sc round, I started at the valley between the tops of the heart. This way I was in place to create the hanger after the round was complete.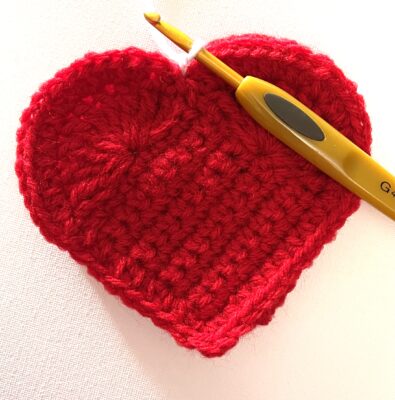 The hanger: I decided to try 2 single strands instead of a short loop like the one in the main pattern. I like being able to tie things around basket handles, plus they could still be tied in a bow and hung from a tree. To do this I chained 30 after finishing the final round. Finish off the yarn and tie a knot, leaving a 1# tail. Attach the yarn in the same place in the valley of the heart and repeat.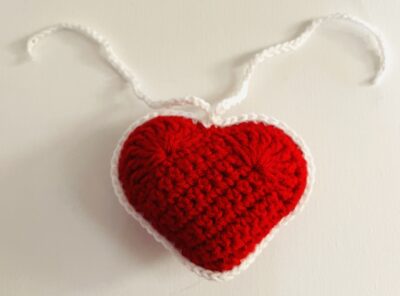 ---
Pin To Save For Later