If you look for a free ornament pattern, chances are these teddy ornaments by All About Ami will pop up. They have been super popular and were requested by our snappy peeps for this ornament quest. Aren't they cute?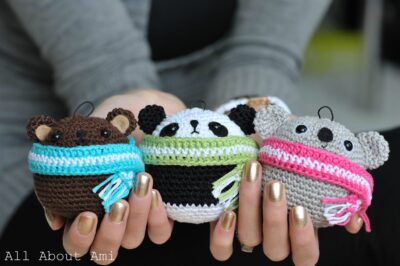 The cute rolly pollys are made with lightweight size 3 yarn and a 2mm hook. Yes, 2mm. I know there are some tiny hooks that size in an old sewing machine cabinet at my mom's house that were my grandma's, but my eyes and chubby fingers were yelling at me to make a mega bear. lol.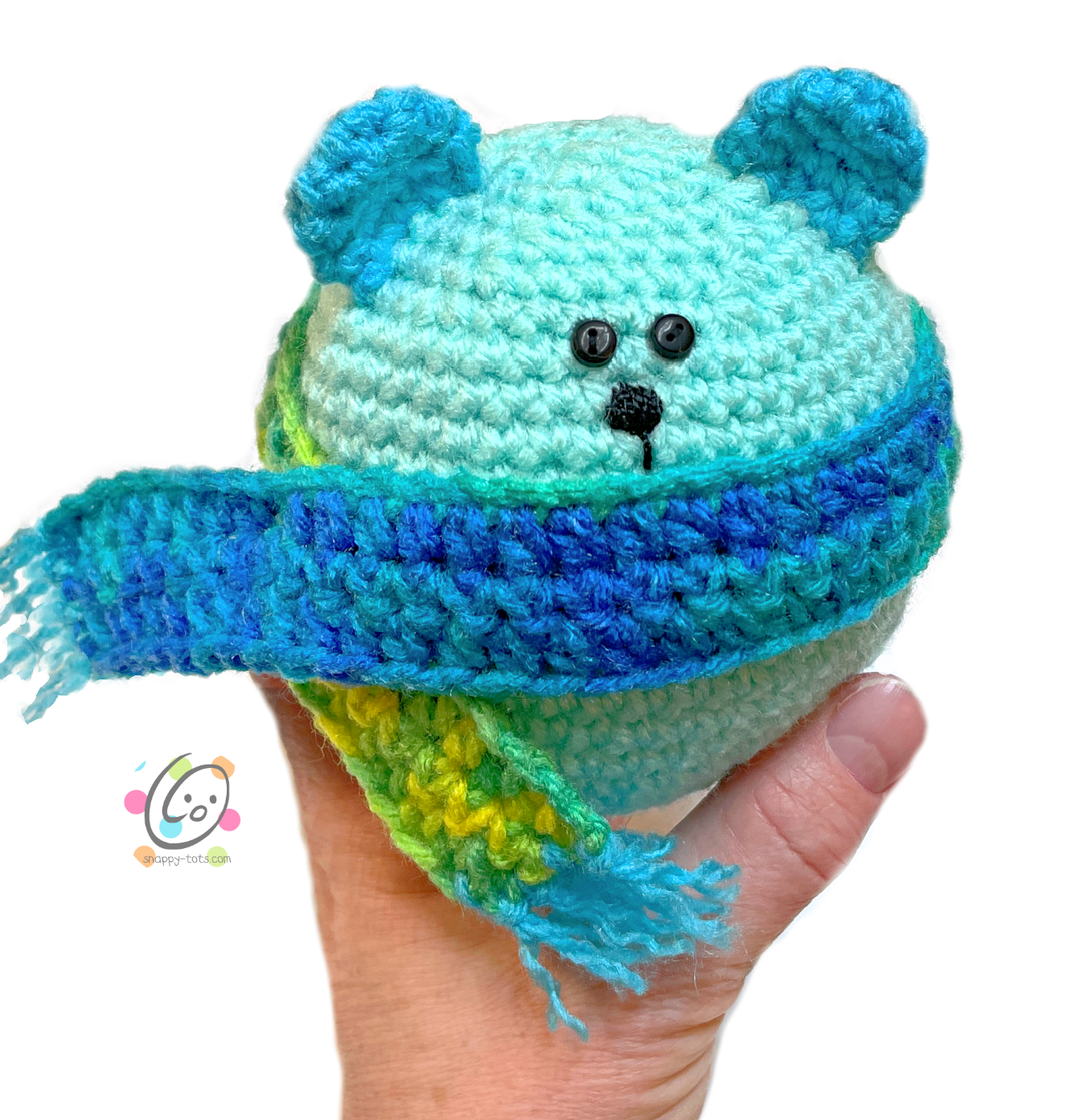 My teal bear is made from Red Heart Super Saver worsted weight (size 4) yarn and a G hook. He turned out to be 4 – 4.5″ across and tall. I think he is super cute. Yes, he would be one of the bigger ornaments on the tree, but that's ok! Fabulous is meant to stand out. I want to make a white polar bear version with a red scarf for my tree. Yep, ww and a G hook for that one too!
This guy has been sitting on a little cabinet in my craft area. He might just stay there to hold pins.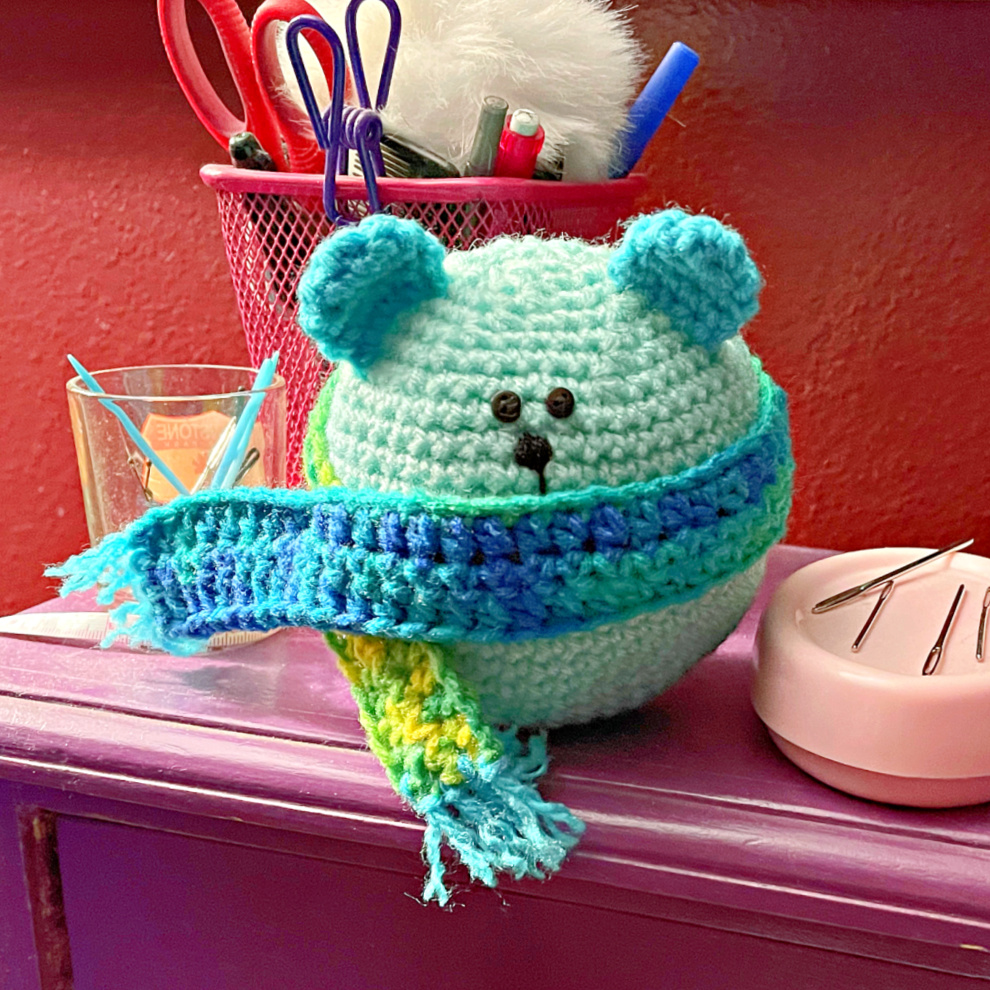 ---
The Ornament Quest
Each Thursday in 2021, join me in making a different ornament so we can have a fun collection at the end of the year. All of the weekly ornaments will be free to view online. The links will be added to my "Calendar of Events" page for easy access.
Weeks 1 & 2: The first two Thursdays of each month will feature a variety of ornaments.
Week 3: Since there are many cute snowflakes I have chosen to feature a different one on the third Thursday of each month. These will be fun to hang in a window as well as on a tree.
Week 4: I also like using ornaments as gift tags so on the fourth Thursday of each month I will feature an ornament that I think would be cute on a package. You can choose to do whatever you would like tho.
Extra: Since there are TONS of really cute paid ornaments, I will be featuring those any time there is a fifth Thursday. Please remember patterns are not to be shared. Selling patterns is how designers make a living.
How the ornaments are chosen: I asked in our snappy facebook group, "Totally Snappy", for people to share links to ornaments they had seen and wish to make. I also wrote down some of my favorite ornaments people had made in our last ornament swap.
---
Teddy Ornaments Free Pattern
By All About Ami
The pattern for this ornament is available for free on the designer's blog: All About Ami
Snappy Rating
Even though I am not a fan of lightweight yarns and tiny hooks, I still give this a full 5 stars because the project is easy and very cute. Other than attaching the ears (which can be a little tricky) this is a great project for first time amigurumi-ers, but also super cute for long time crocheters too.
The list of materials below is from the designer's pattern page. Please visit her page for the complete pattern. CLICK HERE for the free pattern on her blog.
Materials Needed
Lightweight yarn (3): brown for the teddy, grey for the koala, black and white for the panda; turquoise, pink, green and white for the scarves
2.00 mm Clover Amour crochet hook
Yarn needle (bent tip helpful for attaching amigurumi parts)
Fiberfill
Black felt (around eyes of panda and koala's nose) and white felt (around eyes of koala)
6 mm safety eyes (for brown teddy) and 7.5 mm safety eyes (for koala and panda)
Black cord
Black embroidery floss (for brown teddy and panda nose)
Metal ornament hooks
Visit The Designer Online