This week's ornament ended up really surprising me. If you are one that does not like to sew little pieces together don't run away yet. This guy is made in one piece…ONE PIECE! The construction is brilliant with the ears being made along the way! How awesome is that? "Little Christmas Mouse" by Lucy Ravenscar is a free pattern on her blog.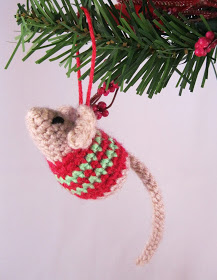 The pattern calls for an E hook and worsted weight yarn. You might know by now that my fingers rebel against anything smaller than a G hook so of course, I made my mouse a little bit bigger.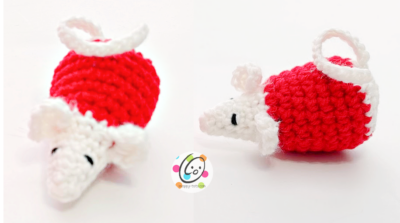 My little guy measures 3″ long x 2″ fat (I got a little carried away stuffing him). This is quite a bit bigger than the designer's 2″ long mouse. I love this little guy so much that I might actually dust off an E hook and make one just for a size comparison.
The day after making this little mouse, a frightening thing was happening in my backyard! I watched out my window and saw something moving… watch the middle, bottom 1/3 of the video below.
EEEEEK!!! (and not a happy eeek!) A giant, guinea-pig-sized MOUSE! In my backyard!! Do you see all of those birds that keep flying around? Were they not hungry? They were probably scared of it because he is bigger than them! My granddaughter (age 3) was with me at the time and thought a "pet mouse" in grandma's backyard was the best thing all day!
Needless to say, after she left I bought a bag full of mouse traps!… and made a cute BIG MOUSE from this same pattern for to have a "pet mouse" instead.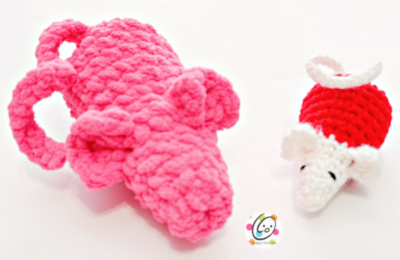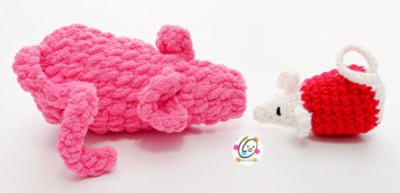 I was going to add safety eyes to it, but didn't have the right size. I will have to get some and make another (or several) because my assistant (a 9 year old Yorkie) claimed it as her new toy. I am glad I left off the eyes for this one.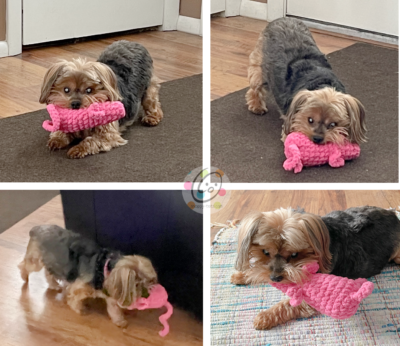 I definitely will be making more mice in all sizes. Possibly even some for actual ornaments. Maybe even some for my mom's cats for Christmas presents.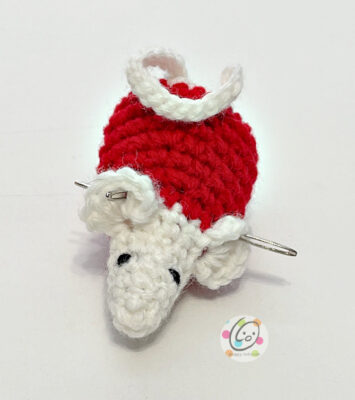 ---
The Ornament Quest
Each Thursday in 2021, join me in making a different ornament so we can have a fun collection at the end of the year. All of the weekly ornaments will be free to view online. The links will be added to my "Calendar of Events" page for easy access.
Weeks 1 & 2: The first two Thursdays of each month will feature a variety of ornaments.
Week 3: Since there are many cute snowflakes I have chosen to feature a different one on the third Thursday of each month. These will be fun to hang in a window as well as on a tree.
Week 4: I also like using ornaments as gift tags so on the fourth Thursday of each month I will feature an ornament that I think would be cute on a package. You can choose to do whatever you would like tho.
Extra: Since there are TONS of really cute paid ornaments, I will be featuring those any time there is a fifth Thursday. Please remember patterns are not to be shared. Selling patterns is how designers make a living.
How the ornaments are chosen: I asked in our snappy facebook group, "Totally Snappy", for people to share links to ornaments they had seen and wish to make. I also wrote down some of my favorite ornaments people had made in our last ornament swap.
---
Little Christmas Mouse Free Pattern
By Lucy Ravenscar
The pattern for this ornament is available for free on the designer's blog: Little Christmas Mouse
Snappy Rating

The directions are very easy to follow. The pattern can be used to create multiple sizes out of just about any yarn you have on hand.
The list of materials below is from the designer's pattern page. Please visit her page for the complete pattern. CLICK HERE for the free pattern on her blog.
Materials Needed
Small amounts of double knitting or worsted weight yarn:
A natural fur colour for the head and tail.
Two colours of yarn, such as red and green, for the body.
Small amount of black yarn to embroider eyes.
Small length of cotton yarn.
Small amount of stuffing.
3.5mm (E) hook.
Tapestry needle.
Tip For Different Sizes
Large mouse: 6.5″ long x 3″ at fattest point
I used a K (6.5mm) hook and Bernat Blanket yarn. His nose was pretty long and pointy so I pushed it in just a bit. I think I would adjust it to leave off one round JUST WHEN USING THICK yarn.
Any size and yarn: I think this pattern would be great with almost any yarn. Just make sure to use the hook needed for the yarn. When making things that will be stuffed, I use a smaller hook than I normally would. With worsted weight yarn I usually use an H – J size hook so I used a G for my little mouse.
---
Visit The Designer Online
Blog | Facebook | Instagram | Ravelry | Etsy
OH MY!!! Look at this awesome pair of total cuteness, Tree Folk and Fungus Folk, she also designed!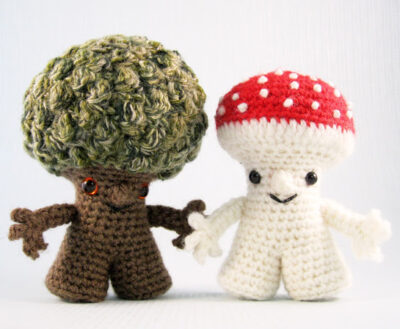 ---
Pin To Save For Later