It is no secret that fall time is my absolute favorite time of the year. Last year I created a set of sunflowers for our gift event and just kept adding pieces to it because we had a lot of fun making them. Each week this month I will add another piece of the set. Here is the first, "Kitchen Sunflower Cloths".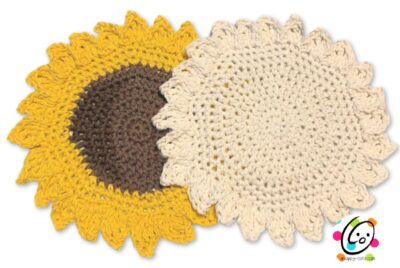 Kitchen Sunflowers Free Patterns:
Kitchen Sunflower Cloths Crochet Pattern
The pattern for these cloths is available below, here on the blog.
Materials
Yarn: 100 yards yellow cotton yarn, 60 yards brown cotton yarn OR 160 yards one color
Crochet Hooks: I (5.5mm)
Notions: Yarn needle for weaving in ends
Optional: Measuring tape, scissors
Measurements
Finished Measurement: 9" across
Gauge: not needed for this project.
Tips
The first stitch of each row is worked into the same stitch as the turning chain.
Stitch count remains the same unless noted at end of row/round.
If you have any questions about this pattern please contact

[email protected]

.
Directions
This project starts at the center of the flower. Color changes are included for the sunflower version.
1. With an I hook and ww yarn (brown or color of choice), create a circle of 8 sc sts (or preferred method for starting a circle of 8 sc sts), pull closed and sl st in first st to join. (8sts)
2. Ch 1, 2sc in each st to end of round, sl st to join. (16sts)
3. Ch 1, *hdc, 2hdc in next st*, repeat to end of round, sl st to join. (24sts)
4. Ch 1, *hdc 2, 2hdc in next st*, repeat to end of round, sl st to join. (32sts)
5. Ch 1, *hdc 3, 2hdc in next st*, repeat to end of round, sl st to join. (40sts)
6. Ch 1, *hdc 4, 2hdc in next st*, repeat to end of round, sl st to join. (48sts)
7. Finish off yarn and change to yellow yarn. Ch 1, *sc 5, 2sc in the next st*, repeat to end of round, sl st to join. (56sts)
8. Ch 1, *sc 6, 2sc in the next st*, repeat to end of round, sl st to join. (64sts)
9. Ch 1, *sc 7, 2sc in the next st*, repeat to end of round, sl st to join. (72sts)
10. Ch 2, (dc, tr) in same st, ch 3, sl st in 3rd ch from hook, (tr, dc, ch 2, sl st) in next st, sl st 2, (one petal complete), *ch 2, (dc, tr) in same st, ch 3, sl st in 3rd ch from hook, (tr, dc, ch 2, sl st) in next st, sl st 2*, repeat to end of round. Finish off and weave in end. (24 petals)
Pin To Save For Later