This past Christmas some perfect heart ornaments kept popping up in my feeds. I am always looking for things that would be cute tied on a package and could be sent in a card. These hearts by Golden Lucy Crafts are great for both PLUS they make adorable ornaments.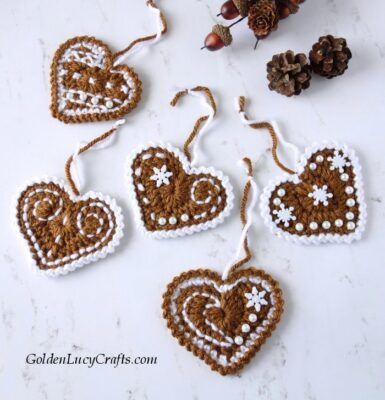 Now, I have to admit, her samples look WAY better than what I created. My second heart was better than the first so overtime I might get there.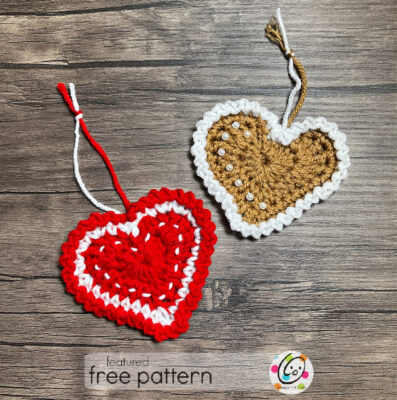 The designer has made several versions of these hearts for different seasons and holidays. They are all super cute. You can find more information about her heart patterns on her blog: Valentine's Day Hearts and Halloween Hearts! 
---
The Ornament Quest
Each Thursday in 2021, join me in making a different ornament so we can have a fun collection at the end of the year. All of the weekly ornaments will be free to view online. The links will be added to my "Calendar of Events" page for easy access.
Weeks 1 & 2: The first two Thursdays of each month will feature a variety of ornaments.
Week 3: Since there are many cute snowflakes I have chosen to feature a different one on the third Thursday of each month. These will be fun to hang in a window as well as on a tree.
Week 4: I also like using ornaments as gift tags so on the fourth Thursday of each month I will feature an ornament that I think would be cute on a package. You can choose to do whatever you would like tho.
Extra: Since there are TONS of really cute paid ornaments, I will be featuring those any time there is a fifth Thursday. Please remember patterns are not to be shared. Selling patterns is how designers make a living.
How the ornaments are chosen: I asked in our snappy facebook group, "Totally Snappy", for people to share links to ornaments they had seen and wish to make. I also wrote down some of my favorite ornaments people had made in our last ornament swap.
---
About The Pattern
The pattern for this ornament is available for free on the designer's blog: Gingerbread Heart Ornaments
Snappy Rating

I love the look of these hearts. It was a little tricky putting all of those sts in one chain st. I have included some tips below to help with the start. My hearts didn't turn out as neat and tidy as the samples, but maybe after making a few I could get that look. I struggled with making the stitching look uniform on some parts of the heart because of the tall sts. If I made more I would just sew on a few buttons instead of attempting the stitching.
---
The list of materials below is from the designer's pattern page. Please visit her page for the complete pattern. CLICK HERE for the free pattern on her blog.
Materials Needed
Yarn:
Red Heart Soft, medium weight #4 yarn, color – Toast
Red Heart Soft, medium weight #4 yarn, color – White
Hook and other materials:
US size h/8 (5 mm) crochet hook
Beads of your choice
Buttons
Tips
Beginning Circle
Since a lot of stitches are worked into a chain st it is important to hold the chain to keep it from growing. Just pinch the base of the sts as you go.
If the center does get away from you and you end up with a hole, no worries! We can fix that. Just keep going. When your heart is complete, use the beginning yarn tail (or matching yarn) and a yarn needle to weave in and out of the sts around that hole from the back. Pull the yarn tight to cinch in the center hole. Secure your yarn.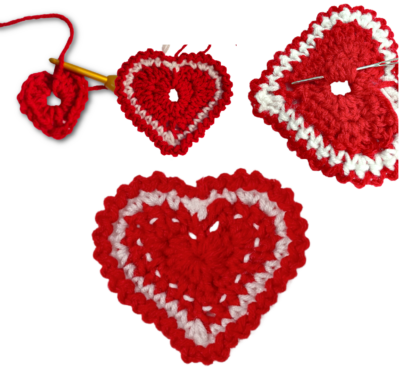 Visit The Designer Online