During the month of December, my feeds on social media are filled with the cutest ornaments. I LOVE so many of them, plus my daughter often pins super cute ones too. I find myself wishing I could make them all and cover our trees with handmade cuteness. But, let's be honest, between finishing gifts, a busy work season, and this past year the added online schooling, who has time to make all of the ornaments? SO, I got thinking, let's make them throughout the year, one month at a time!
Our First Ornament of the Quest
I asked in our snappy facebook group, "Totally Snappy", for people to share links to ornaments they had seen and wish to make. I also wrote down some of my favorite ornaments people had made in our last ornament swap. One of my personal favorites was a 3D snowman mug, complete with miniature marshmallows.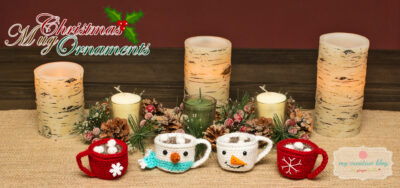 "Christmas Mug Ornaments" by "The Ginger Hooker, Heather Boyer", are cute as winter mugs and little snowmen mugs. Of course, being a snowman lover, I made a snowman.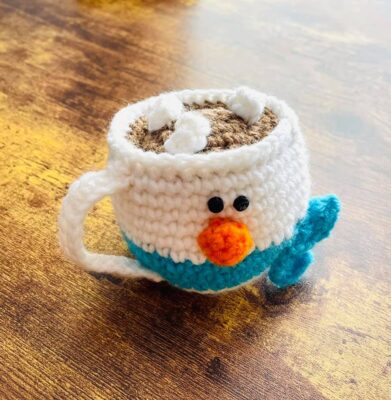 The Ornament Quest
Each Thursday in 2021, join me in making a different ornament so we can have a fun collection at the end of the year. All of the weekly ornaments will be free to view online. The links will be added to my "Calendar of Events" page  for easy access.
Weeks 1 & 2: The first two Thursdays of each month will feature a variety of ornaments. 
Week 3: Since there are many cute snowflakes I have chosen to feature a different one on the third Thursday of each month. These will be fun to hang in a window as well as on a tree.
Week 4: I also like using ornaments as gift tags so on the fourth Thursday of each month I will feature an ornament that I think would be cute on a package. You can choose to do whatever you would like tho.
Extra: Since there are TONS of really cute paid ornaments, I will be featuring those any time there is a fifth Thursday. Please remember patterns are not to be shared. Selling patterns is how designers make a living.
---
Christmas Mug Ornament Free Pattern
By The Ginger Hooker, Heather Boyer
The pattern for this ornament is available for free on the designer's blog: Christmas Mug Ornaments
Snappy Rating

The "Christmas Mug Ornaments" pattern is really easy to follow and fun to make. I finished one and have three more "hot chocolate" inserts ready to go and waiting on their mugs. My goal is to finish all of this month's ornaments before the next month begins.
The list of materials is from the designer's pattern page. Please visit her page for the complete pattern. CLICK HERE for the free pattern on her blog.
Materials Needed
– Size G (4.0mm) Crochet Hook
– Red (Main Christmas Mug Color) Worsted Weight Yarn
– Brown (Hot Chocolate) Worsted Weight Yarn
– White (Main Snowman Mug Color and Marshmallows) Worsted Weight Yarn
– Blue (Snowman Scarf) Worsted Weight Yarn (optional)
– Orange (Snowman nose) Worsted Weight Yarn (optional)
– Black, White embroidery thread (optional)
– Carrot Nose Buttons (optional)
– White Snowflake Buttons, 28mm (optional)
– Black Safety Eyes (6MM) OR Tiny 2-Hole Black Buttons, Size 6 mm for Snowman eyes and/or mouth
– Poly-Fil Premium Fibre Fill, 20-Ounce
– Ornament hangers
– Stitch Marker
– Yarn Needle
---
More Cute Mugs
Check out some of the mugs our snappy peeps made.
Top Row (left to right): Messina Moro, Lisa Kelley, Gina Bittner, Deb Walsh Ferry, Cheryl Speights
Bottom Row (left to right): Cathy Walls, Cathy Carlton, Hollyanne Brady, Leigh Trinh, Mary Ann Atzrott
---
Visit The Designer Online