When it's time to crochet, have you ever imagined where some of your favorite designers crochet? As I sit in my family room, sinking into my couch, I often wonder… So I decided to ask!
I made a list of where I would hang out if I was a crazy crochet stalker person and Twinkie Chan's craft room was at the top of the list. If you've visited my sites you surely know how much I adore the queen of crocheted yummy things. One night I took a chance and sent her a private message on facebook. I couldn't believe my eyes and totally made dolphin noises (as my husband calls high pitched screams of delight) when a reply popped up. Yes!
Now its Time to Crochet with Twinkie Chan.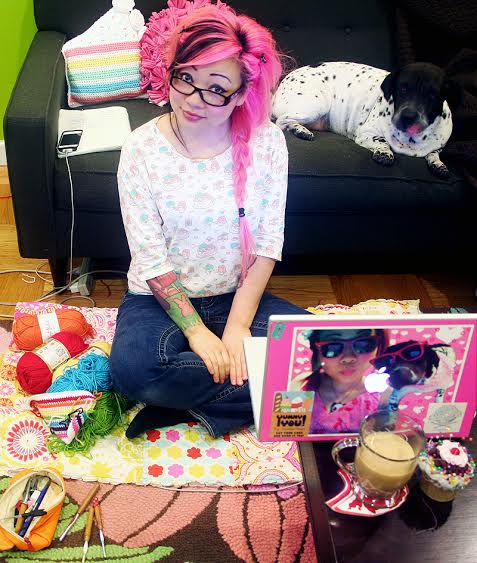 Where do you crochet?
I have a wonderful craft room, filled with all my yarn and craft supplies, plus office-type stuff like my computer and shipping boxes, but I rarely crochet there because it lacks comfy seating. I usually end up crocheting in my living room in front of the TV!
​ ​
What do you sit on?
I spread a blanket out on the living room rug, and I sit on the floor while leaning against my couch. I know this is a little bit weird. Why don't I just sit on the couch? I like to spread things out around me, like all the yarn I need for a project (usually multiple colors/balls), my tools (like my hooks and needles), my laptop within easy access, and a cup of tea! It's just easier for me to reach and use all the things I need. Plus I can snuggle next to the space heater!
​What is the area like? ​
Unfortunately, my living room is not lit very well. Even during the day. I will probably be blind by age 50! But I like the sense of comfort the living room provides. This is where people hang out, including y dogs! I'll usually edit photos and blog in my craft room, and ship orders, and hot glue things, but all my crocheting is done on the living room rug. It's not pretty or fancy, but it's real!
​Do you watch tv or listen to music while you crochet? If so, what's on?​
I always have the TV on while I crochet. I tend to find shows from the 90s on Netflix or Hulu so that I can watch a series from beginning to end and not have to think about selecting something new to watch for a few weeks. I like mindless television, so that I can still pay attention to pattern-writing or writing emails. I kind of have the TV-sensibility of  a teenaged girl, so I love watching shows like Felicity, Party of Five, and Veronica Mars. Also fun stuff like Friends, and Will & Grace! Current TV shows I like are the Carrie Diaries, Pretty Little Liars, How I Met Your Mother, and Top Chef!
​What do you keep your supplies in and what's in there?
All my supplies are in the craft room. I keep my yarn in CD towers from IKEA, and I have a lot of jewelry findings in plastic bins. My main crafting supply is the yarn, so that takes up most of the room. All the bins are filled with things like glue sticks, paint, pin backs, hair clips, paper products, and thread. The closet is where I keep all the shipping supplies like boxes, envelopes, and tissue paper. As far as tools I use every day, I have a zipper pouch that I keep my most-used hooks inside, along with scissors, tapestry needles, a small ruler, and a lot loose safety eyes and doll noses!
What is your favorite brand of crochet hook? What size do you use most?
My favorite crochet hook is a Susan Bates with a bamboo handle. My go to size is the H/5.0mm hook!
Whether you are an avid follower like myself or a new fan, please visit her sites. She has many adorable free patterns, articles that will make you smile ("What I Wore Today" is always a hoot!) and so much more.
www.TwinkieChan.com
www.YummyYou.com
www.TissueBoxBakery.com
When its time to crochet, where will YOU be? Please post below and let us know.
Huge thank you to Twinkie Chan for taking time to share with us. Visit her on facebook and let her know how much you enjoyed her crochet time.