When it's time to crochet, have you ever imagined where some of your favorite designers crochet? As I sit in my family room, sinking into my couch, I often wonder… So I decided to ask!
This week I get to share the very talented Tamara Kelly. I first came across her wonderful site, Moogly, last fall while searching for a stitch tutorial. I have been a big fan ever since. Her tutorials and videos are some of the best I have seen.
It was a joy to receive a reply to my spotlight request. I have thoroughly enjoyed how helpful Tamara is on her blog, facebook page and in groups. Even though she is very busy adding new patterns,  wonderful how-to's and sharing links to free patterns she rounds up, she always has time to help and encourage others.
Now its Time to Crochet with Moogly.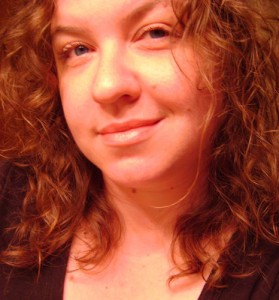 When you crochet, where do you sit?
I sit on our big, light brown, living room couch most of the time! We've been keeping the house pretty chilly, so there are lots of crocheted blankets on and around me – blankets that I've shared the patterns for on Moogly, mostly!
What is the area like?
Our living room has orange paint – I just love the color orange, I find it's warm, cheerful, bright, and people always remark on it! It's overpowering when the room is empty, but with neutral furniture with white accents, it's really lovely. It's also crowded – I'm often crocheting while being jostled by energetic children and a cuddly puppy. It's certainly the center of our home!We have a small house, and hope to move to a larger one soon – the plan is for me to have my own office/craft room. But at the end of the day, most actual crocheting will probably still happen on the couch.
Do you watch tv or listen to music while you crochet? If so, what's on?
I like to "watch" lots of documentaries – I have to put watch in quotes because I'm usually looking at what I'm making rather than the television! Science, nature, ancient peoples are some of my favorites. If the kids are in bed I've got some series I love to follow on Netflix – Warehouse 13, House of Cards, and Bones are big favorites, but I have to pay a little more attention to some of them… and watch my tension!
What do you keep your supplies in and what's in there?
My beloved crochet hook case, which was a gift from my mother over 10 years ago, finally fell apart just a few months ago! Right now my metal hooks are in a cosmetics case, and my most precious wooden hooks are in a special drawer, in their own cases and sleeves, next to the couch. I can't risk the dog or kids getting a hold of them!
What is your favorite brand of crochet hook? What size do you use most?
I hate to play favorites, and I really do believe that all hooks have their place – there are some yarns that just work better with a Bates style vs a Boye, and vice versa. However, my Furls crochet hook and my Craftwich Creations hooks are definitely precious – and working with them is a real pleasure. I like using bigger hooks than recommended on the label, to increase the drape of the fabric, so I, J, and K definitely get a lot of use!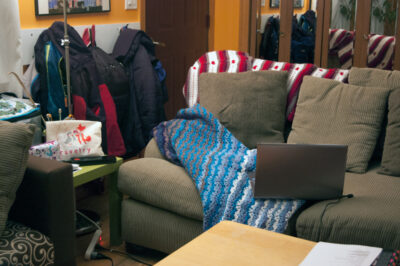 Huge thank you to Tamara Kelly for taking time to share with us. Visit her on facebook and let her know how much you enjoyed her crochet time.
Please visit her online. Each site will definitely inspire and teach you to enjoy crochet even more.
When its time to crochet, where will YOU be? Please post below and let us know.