Growing up, Christmas was filled with wonderful Christmas music. My sister and I both play instruments so one of us could always be heard playing carols. The annual Christmas band concert was a highlight, especially when my sister played in her college symphony. I miss hearing her play, but we still have carols playing throughout the season.
Whether your family plays an instrument or not, I think this little trumpet is a great addition to our "Countdown to Christmas Calendar".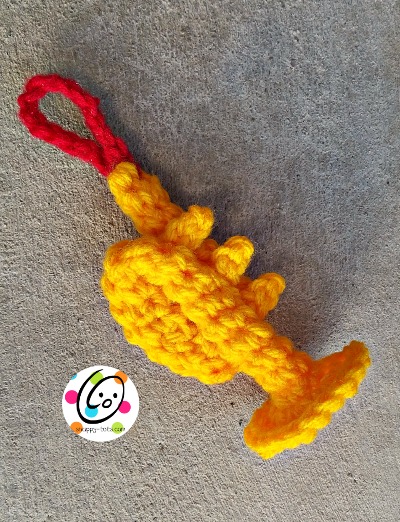 This has become a family favorite. Now that our youngest son plays trumpet, I made some for our tree and also have made these to tie on gifts. 
Materials and Details
Yarn: Ww in yellow and red
Crochet Hook: H (pattern calls for smaller hook, but I chose an H to create a larger trumpet)
Miscellaneous: Yarn needle
Size: Approximately 4″ long
Directions: Follow directions for making "Trumpet" by Kim Lapsley Crochet.
Hanger: With G hook and red yarn, sl st in a stitch at tip of trumpet. Ch 15, sl st in same st on trumpet. Finish off and weave in ends.