Over the weekend I whipped up an easy crocheted washcloth from some variegated purple Creme de la creme cotton yarn I had on hand. If you haven't tried this yarn I hope you will. It comes in wonderful, vibrant colors and has a lovely, smooth look to it.
I thought you might want to make one too. Grab an H hook, some cotton yarn and crochet along with my video.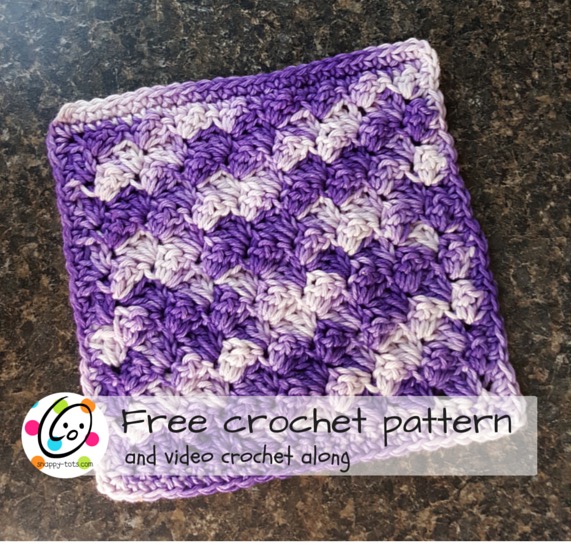 Materials
Yarn: Red Heart Creme de la Creme cotton yarn
Crochet Hook: H
Instructions
There is a crochet along video for this project.
Please add this to your Ravelry favorites.
With H hook and cotton yarn, ch 28, sc in 2nd ch from hook and in each ch across. (27sts)
Ch 1, turn, sc in each st to end of row.
Ch 2, turn, *sk 2, (sc, 2dc) in next st*, repeat to end of row. (27sts)
Repeat previous row until cloth is square. Check by folding corner to corner.
When cloth is square (or desired length), ch 1, turn, sc in each st until 1 st remains, (sc, ch 1, sc) in last st.
This step is worked around outer edge of cloth. Sc evenly along edge of cloth, (sc, ch 1, sc) in corner st. Sc in each st across beginning row, (sc, ch 1, sc) in corner st. Sc evenly along next edge of cloth, (sc, ch 1, sc) in corner st. Sc in each st across last edge. Finish off and weave in ends.
Did you make one?
I LOVE to see your creations. Please share them on instagram and include #snappytots for a chance to win a snappy pattern of your choice.
---
Please contact the designer with any questions, comments or concerns. Help with this pattern is available through email. [email protected].
All text and graphics/photos are Copyright ©2016 Snappy Tots by Heidi Yates, all rights reserved. No pattern may be reproduced or distributed, in part or whole by any means, without written permission. Finished products created from this pattern may be sold. Please include reference to www.snappy-tots.com as pattern source when possible.