One of our most favorite things to do during the warmer months is to watch movies outside. A couple years ago my husband made a large screen (60″ high x 103″ wide) and everytime I post pictures about our movie nights people ask about the set up. I hope this info helps you create your own outdoor movie theater.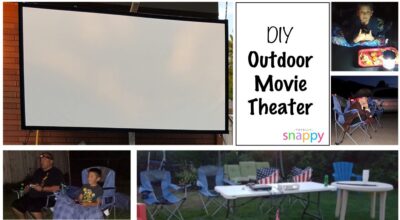 We've had family bbq's, the boys have played video games on it and we even put it in the front yard last year for Halloween. Trick or treaters thought it was super cool.

Favorite Family Movies
Since our neighbors can see the screen (and hear if they are outside…but we try not to be too loud), we choose movies appropriate for almost all ages. Some of these might not be good for really young ones but we dont start the movies until dark, which is around 10pm.
Here are some of our favorite movies to watch:
Ghostbusters
Incredibles
Back To The Future (ALL of them)
Star Wars
Journey to the Center of the Earth
Up!
Men In Black (ALL of them)
Scooby Doo!
Marmaduke
Inside Out
Night At The Museum
Ice Age
For older audiences:
Jurassic Park
Independence Day
Land Of The Lost
If YOU have a movie suggestion please add it to the comments below. We are always looking for ones to watch.
Equipment
Here is a list of items we use for our set up. I am sure there are lots of other options. These have worked great for us.
Outdoor Screen (see options below)
Gaming console: We use a PS3 because we had it on hand.
Projector: We use an Epson (see photo below). It is pretty pricey, but there are lots of other projectors available.
Speaker system: We picked up a set at a thrift store.
Extension chords.
Long table for equipment. Before this we used a couple of wooden tv trays.
Table for treats.
Lawn chairs.
Tiki torches to keep mosquitos away.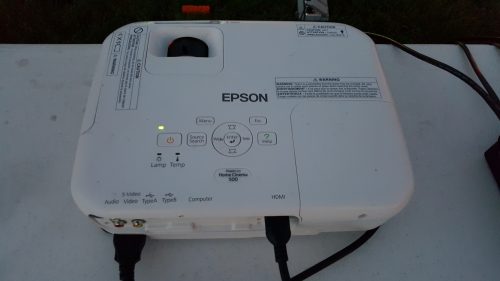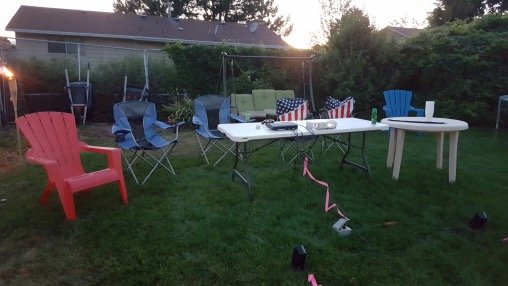 The Screen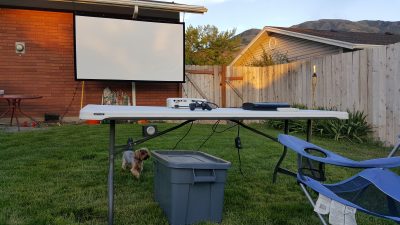 Make Your Own
Materials:
wood to create a frame (approximately 390″) – we used scrap molding we had on hand. 1″ x 1″ works well
Blackout cloth – Carl's Blackout Cloth 66″ x 110″, Matte white
Black felt tape – Carl's Black Felt Tape (we used 1/4 of the roll. It goes a long way
Measurements: 60″ high x 103″ wide
Buy One
There are TONS of options to buy an outdoor movie screen. Prices start at around $60,