What an exciting time for Eagles (and Chiefs) fans. In my family we are cheering GO EAGLES!
I gave my sister a goose for Christmas, all decked out in fan gear to cheer on their favorite football team. He had a bit of a rough start at his new home because the same day he arrived the Eagles LOST (UH OH… and no sis it is NOT his fault). Turns out, the new goose ended up being lucky because the Eagles are headed to the Super Bowl!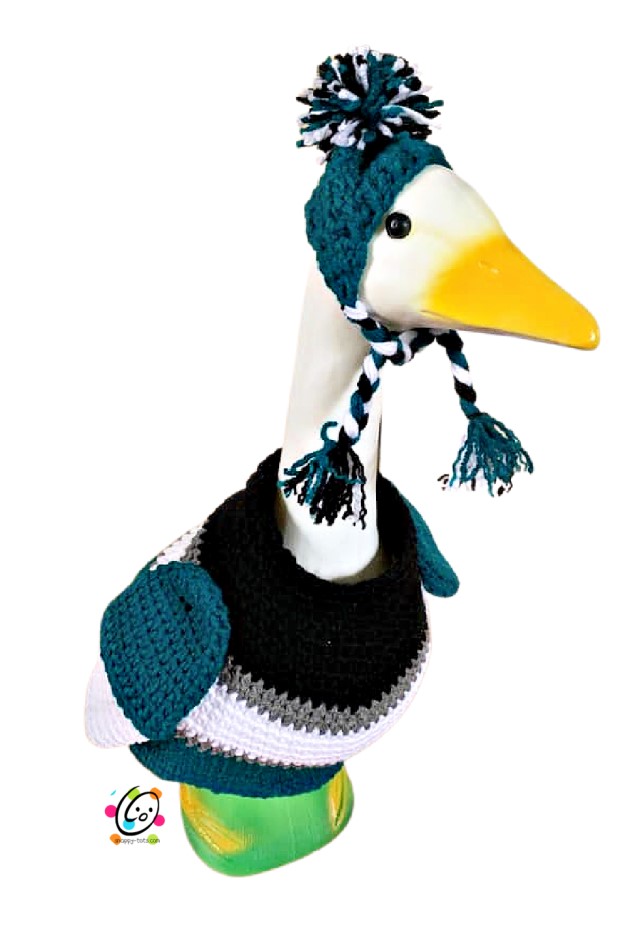 I wanted it to have an official Eagles item to go with the outfit so I got this Eagles Gaitor. My nephew did an amazing job dressing the goose (i didn't want the goose meeting his new family without any clothes on!). I ordered an applique from ebay but it didn't come in time. Those would be a great addition too.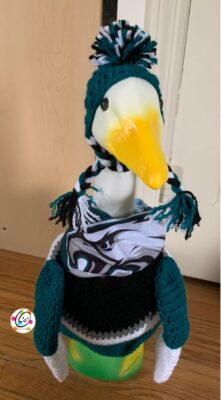 We also gave one to my mother in law, and even though her Broncos didn't do too well her goose buddy sure looks cute…. btw the Broncos haven't been doing well for several years so it definitely wasn't this goose' fault either.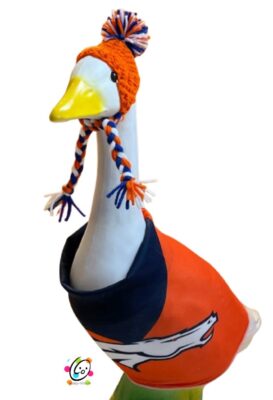 Watch for more fancy outfits to come each month. You can find the latest "Ducke and Goose" patterns at THIS LINK and find more goose outfits and accessories at THIS LINK like this football outfit.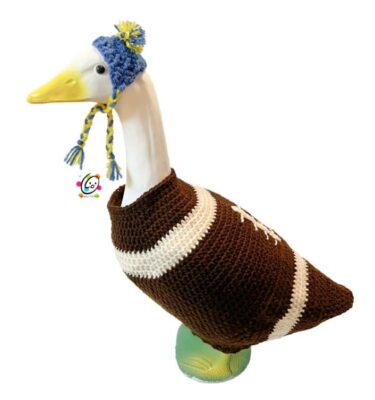 Where To Get The Goose
This is designed for a 23" goose statue like the one sold by Miles Kimball: https://www.mileskimball.com/buy-large-white-goose-23-h-310493
It is also available from Amazon: https://amzn.to/3AdRWSP
About The Outfits
The following patterns were used to make their outfits. I have included the stripe sequence for the sweater, plus links to the Eagles and Broncos items I purchased.
The Hats: The beanie was made from my free "Goose Beanie" pattern. Broncos colors: Red Heart Super Saver in Pumpkin, Royal Blue, White. Eagles colors: Red Heart Super Saver in Black, White, Jade, Grey Heather.
Licensed "Gaiters" (worn as a shirt on the Broncos goose and a scarf on the Eagles goose): Broncos | Eagles
Fan Sweater: I used my "Goose Tutu Dress" pattern. I have listed the stripe sequence below. I then added wings from my "Goose Bunny Costume" pattern.
Rounds 1-10: Black
Rounds 11-12: Grey
Rounds 13-18: White
Round 19: Grey
Then refer to the "Dress Version (no tutu) part of the pattern and finish with Red Heart Super Saver in Jade.
The wings start with Jade and finish in White.
Would you be interested in a pdf for this outfit instead of referring to the others? If so, please comment below and maybe I will put one together.
I hope you have enjoyed making this or any of my patterns. I would LOVE to meet your goose! Please add #snappytots when posting on social media or email a photo of your goose to [email protected].
Pin To Save For Later