We love things that glow in the dark so when I finished this project I thought it would be fun if I could make him glow at night.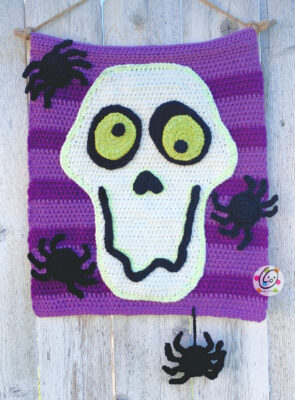 I've seen people use glow in the dark yarn, but my project was already made. I remembered I had some DecoArt Glow in the Dark paint so I thought I would give it a try. It worked!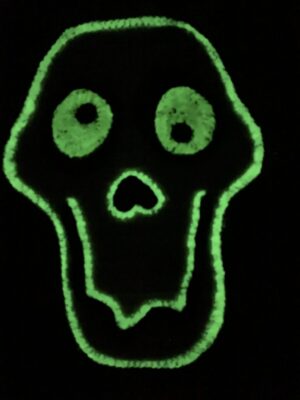 About The Paint
Where to purchase the paint: I used "Decoart Glow in the Dark Paint". It is super easy to use, water based so it cleans up easily and it GLOWS! It is available from their site (link above) and also from Michaels and I have seen it at Walmart. It is available on Amazon, but only in a 4 pack or large bottle.
What colors can it be used on? It glows best on white or light yarns. I painted on the white skull and the green part of the eyes. It took a lot more paint on the green to show up.
Can it be seen in the light? Yes. It does have a light yellow-green color in the light on white areas and looks white on dark colors. It isn't really noticeable and in my opinion it just adds a nice outline.
What yarns can this be used on? I used Red Heart Super Saver. I think it would work on most yarns.
Will other glow paints work? I don't know. I have been really pleased with this one so haven't needed to try others.
Tips For Applying The Paint
Tools needed: I used a 1/2″ paint brush, but anything you would use to apply paint in a 1/4″-1/2″ line will work. If a brush isn't available, I would try a q tip.
How much paint to use: Apply a generous amount WHERE YOU WANT IT TO GLOW. You can always apply a second coat after the first one has dried if you missed some areas.
Think, plan, THEN paint: once you paint this on you can't wash it off and try again so think first and make a plan. Broad areas glow best. Fine lines might not show up.
Allow 2+ hours to dry.
About This Pattern
Available in both of my pattern shops:
Materials
Yarn:
200 yards (per skull) worsted weight yarn in Red Heart Super Saver Soft White, 100 yards Black, 50 yards Impeccable Grass
200 yards contrasting color for flag version
Crochet Hook: H (5 mm), I (5.5mm)
Notions: Yarn needle for weaving in ends
Optional: Measuring tape, scissors, stuffing for pillow version, Glow in the Dark paint, ½" paint brush
Details
Finished Measurements:
Skull – 12.5" across x 17" tall
Flag – 14" or 16.5" across x 18" tall
Other Projects
The label on the paint says it works on "any craft or fabric surface". If you use it to make something glow please tag me so I can see too. #snappytots.
Pin To Save For Later