My oldest son's favorite ornament to put on our advent calendar is Santa. Nicolas was born December 1st and always thought he was named after St. Nick. After searching through many wonderful Santa ornaments for our "Countdown to Christmas Calendar", I came across this one and loved it. Thanks to Debi of Dly's Hooks and Yarn for a fun little Santa.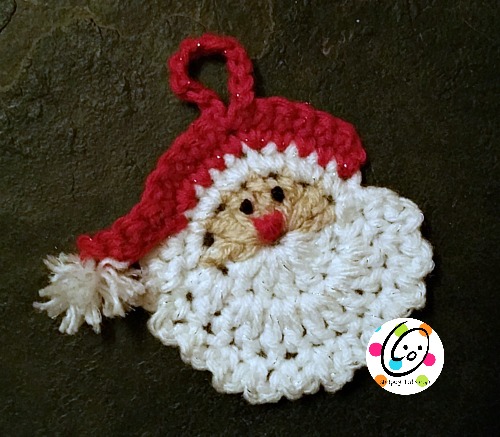 MATERIALS
Yarn: Worsted or sport weight in white, red and flesh color (sample is made with Red Heart Buff for face)
Crochet Hook: Size I
Miscellaneous: Yarn needle
Directions: Follow directions for making "Santa Ornament" by Dly's Hooks and Yarns
Hat: I did the hat slightly different to incorporate the hanger.
Join red with a sc in the first unused st next to the beard, sc in same st.  Sc in next 3 sc, 2 sc in next sc, sc in next 3 sc, 2 sc in next sc, sc, ch 5. The next sts will be worked across the chain and top of hat. Sc in 2nd ch from hook and in next 3 chs, sc in each st to top/center of hat, ch 10, sc in same st, sc in each st until 1 st remains, sl st in last st. Finish off and weave in ends.
I love pompoms so I made a tiny one by wrapping white yarn around two fingers a few times. I then tied a yarn piece around the middle of the loops and used that to tie to the tip of the hat. Cut the yarn strands short and pull apart to frizz. Don't try to make it perfect. It's so tiny. A white button or commercial pompom could be used instead.