Have you ever made a hat that turned out just right or had someone request another pair of slippers just like the ones you made them the year before? Sometimes remembering the yarn, size and pattern can be tricky. I wish I had kept a record of each project I have made since I started crocheting and knitting.
Now I have a notebook (I'm a paper girl, but a spreadsheet would be even better) with notes on each item I make. It includes details such as the recipient, pattern, yarns, any adjustments and notes I might need to replicate the item. I've rounded up some fabulous suggestions, downloadable files and apps you might like to try. If you do, please leave a comment below and let me know what you think.
Things To Track
When creating a record of each project, keep in mind what information you might need for replicating the item. I often think I will remember every detail about a project, but quickly forget once I move on to the next. Too much info is better than guessing.
recipient – describe the person, including size (if applicable) and any other important information.
pattern – Include as much information about the pattern as possible, such as the pattern name, designer, website, book, file name, etc.
yarns – Write down more than you think you will need in case the yarn you used gets discontinued. If that happens you will need to find something similar. 
any adjustments and notes
I also like to include pictures. I got a small, portable printer for Christmas a couple of years ago and use it to add pictures. I just choose the photo on my photo, send it to the printer and stick it to the record/paper.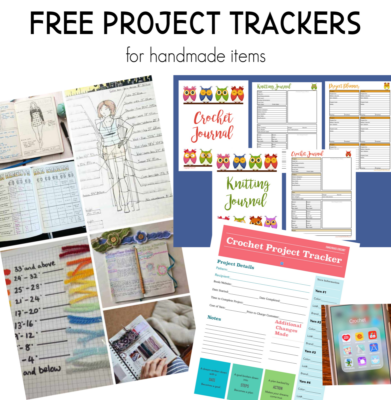 Printables for Crochet Projects & More
The TOTAL Planner
If you are looking for a complete planner to print out and have everything in one place, THIS ONE by "Crochet 365 Knit Too" is the cream of the crop! It includes pages for crochet, knit, note and project pages, plus even extra sheets for abbreviations. You can print off the pages you want and make copies when you need more. It is free to her newsletter subscribers (click the photo below to get the tracker). Totally worth it!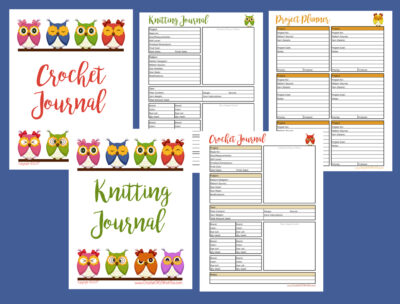 Simple Crochet Project Tracker
This one by Family Bugs Crochet Patterns has all of details on one page for easy reference. CLICK HERE for a free printable.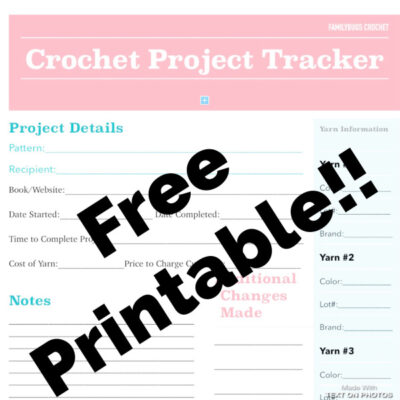 Use a Bullet Journal to Keep Track
I started using a bullet journal as a planner a year ago and I'm hooked so I love the idea of using a bullet journal to track handmade items.
Check out these spreads and ideas rounded up by "Just Bright Ideas".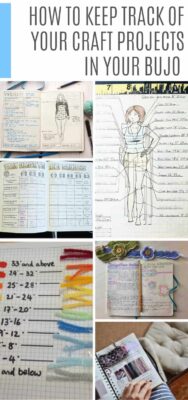 Apps To Track Crochet Projects
"Heart Hook Home" has rounded up 12 great apps to try.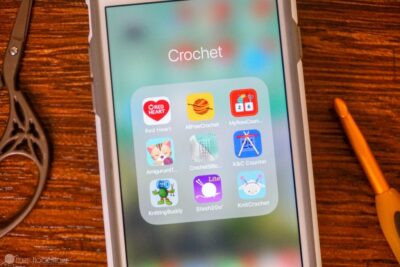 Special Event Trackers
I like to plan Christmas gifts throughout the year….but almost every December I wish I had actually followed my plans and made all of the things.  There are MANY trackers, both printable and apps, for making/tracking Christmas gifts. Here is one by "Art and Whimsy" with lots of options.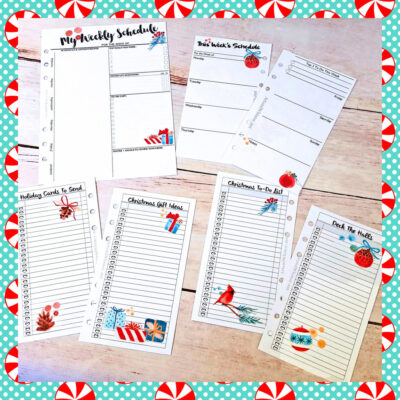 Get Started
Ready to start tracking? Here is one of my favorite slipper patterns to get your tracker started. Every time I make a pair someone else wants a pair too. CLICK HERE for the slipper pattern.