As the wife of a Deputy Sheriff, I know how hard they work and the things they experience. Each time an officer is killed it affects the entire department, family and community.
When we have attended police officer funerals we wear black ribbons with a thin blue line, an emblem to show support of fallen officers. A few years ago I made a flag for my husband to fly on our pole when an officer has been killed.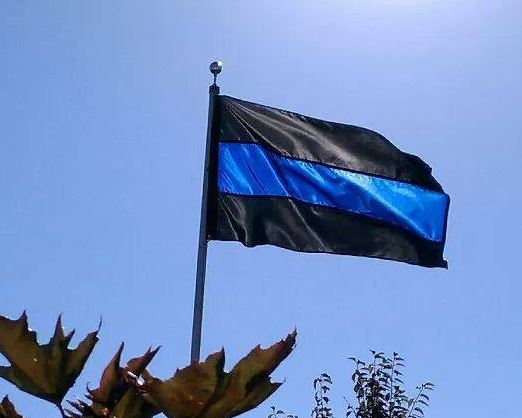 Last week, our Sheriff passed away unexpectedly. It hit us all very hard. He was an outstanding man who served our county for many years in many ways. It was going to be a very cold day and I decided I wanted to make a thin blue line scarf to show my support for our Sheriff, the department and all LEOs. I wanted something quick and easy to make, with a crisp center line.
I like having the keyhole to keep the scarf closed. I based this on my Wrapped In Hope pattern, but slightly longer. Many have asked me why the keyhole is not in the center of the length. I designed this so the ends would be even. I actually wore it to the funeral, came home and frogged the scard, then made it again with a keyhole in a slightly different place plus a little longer.

Thin Blue Line Scarf
Materials
Yarn: Red Heart Super Saver in Black and Royal Blue
Crochet Hook: I (5.5mm)
Miscellaneous: yarn needle
Gauge: not necessary for this project
Measurements: 57″ long x 5.5″
Directions:
1. With an I hook and black yarn, ch 150, hdc in 3rd chain from hook and in each ch across. (148sts)
2-4. Ch 2, turn, hdc in each st to end of row.
5. Change to blue yarn. Ch 2, hdc in each st to end of row.
6. This step creates the keyhole opening. If a keyhole is not desired, repeat step #5 instead. Ch 2, turn, hdc 102, ch 9, sk 9, hdc 37.
7. Ch 2, turn, hdc in each st and ch 9 opening to end of row.
8. Change to black yarn. Ch 2, turn, hdc in each st to end of row.
9-11. Ch 2, turn, hdc in each st to end of row.
Finish off and weave in ends.