One of the first baby prop patterns I wrote was this sling for a customer. This style has been around for a few years and is still a fun style. It can be used many ways, for a variety of sizes. Please be careful whenever handling a baby.
Crochet Sling & Nest Photo Prop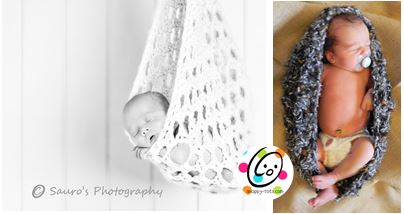 Materials:
Bulky Weight Yarn (Lions Brand Homestead) or a combination of strands held together (nest)
N Hook
Yarn Needle
Directions:
Note: Sling is worked in the round until step 6.
ch 4, join to form ring.
1. 6 sc in ring, join with sl st in first sc. (6 sts)
2. Ch 2, 2dc in each st, join.(12 sts)
3. Ch 2, dc, 2dc repeat to end of round, join. (18 sts)
4. Ch 2, dc, 2dc in each st, join. (34 sts)
5. Ch 2, dc, 2dc in each st, join. (66 sts)
6. Ch 2, dc, ch 2, sk 2, 2dc, ch 2, sk 2, repeat to end of round, join, turn. (44 dc)
7-15. Ch 2, dc in space, ch 2, 2dc in next space, repeat to end of round, join, turn. (44 dc)
16. Ch 2, dc in space, 2dc in each space to end of round. Finish off, leaving a long tail. Weave in to secure.
Suggestions for use: for a sling or hammock look (only made from stronger yarns), tug at the ends to create more of an oval shape. After use, wash and block into shape if necessary.
Caution: Babies should never be left unattended in sling. This item is a photography prop only and should not be used for sleeping or when an adult is not within close proximity.
If made from novelty yarns, please only use laying on a surface. It will be too flimsy to support a baby.
Common Crochet Abbreviations
Ch – chain    Sl st – slip stitch
St – stitch    Hdc – half double crochet
Sp – space; sps – spaces    Dc – double crochet
Sc – single crochet    Trc –treble/triple crochet
** – repeat instructions between, as many times as indicated
This pattern is copyrighted to snappytots and may not be copied for resale in part or whole. It is illegal to post this pattern online or share with others without written consent from Heidi Yates.  Items created from this pattern MAY be sold. Please include a link to snappy-tots.com if selling online.
~ ~ ~ ~ ~ ~ ~ ~ ~ ~ ~ ~ ~ ~ ~ ~ ~ ~ ~ ~ ~ ~ ~ ~ ~ ~ ~
Are you on Ravelry? Please add the "Feathered Nest" pattern to your library and click the heart on the listing if you  enjoyed the pattern.