We've all made them, sold them or bought them…hats and headbands with button on flowers. I personally love these. They remind me of these cool sneakers I had growing up called Zottos. They came with little velcro things in lots of colors to put on the sides. I have sold more sets of hats with flowers than anything else. They make a great boutique item.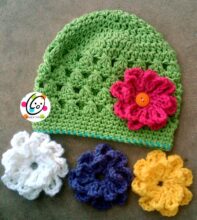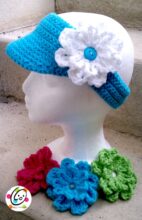 But….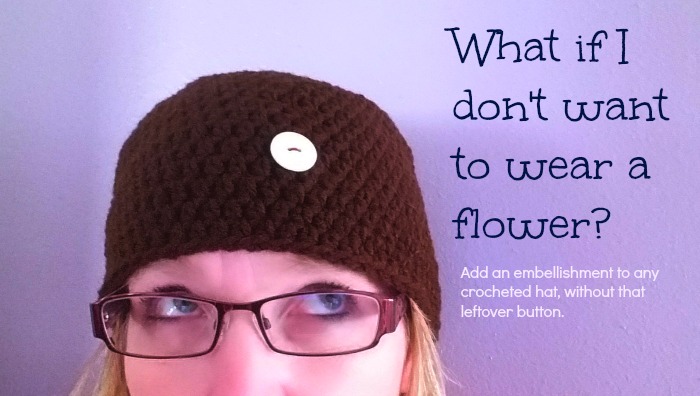 Sometimes we want to wear just the plain hat without having a weird flowerless button on it. What if we could add interchangeable embellishments without that button?
Buttons make cute flower centers, but not all appliques have a center start that can be left open to slip over a button. Not all flowers can button over either.
It would be fun to wear a shamrock, pumpkin, snowman or any applique on any crocheted item too!

Recently I had a friend order a baby hat. Her baby was due before Valentine's Day, but wasn't sure if she wanted a heart just in case. So… I added the button to the BACK of the heart and it slips through any posts on the hat. She is thrilled! I think it turned out super cute with or without the heart. It's a free pattern so you can make one too 🙂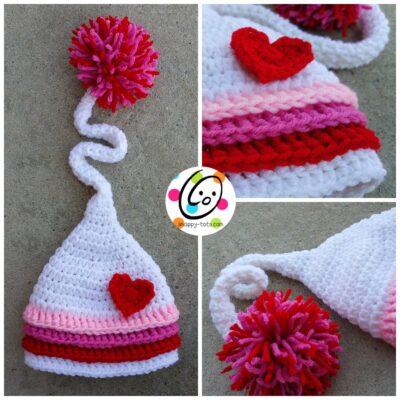 How To Attach Appliques To ANY Crocheted Item
I make most of my hats with a hdc stitch. A 1/2″ buttons slips between the posts nicely. You will want to choose a button that will fit between the posts of your project. For example, if the item is made with a dc stitch or similar, you will want to use a bigger button.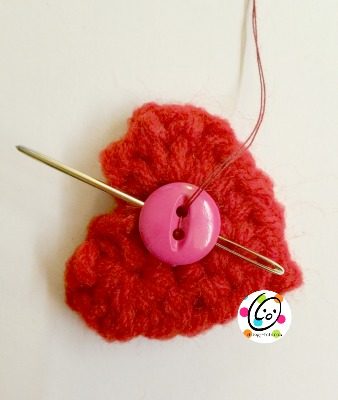 First, we will sew a button to the back of our applique (a heart in this example). Use thread that matches the center of the applique so it wont be noticeable from the right side. Lay a yarn needle or something of similar size between the applique and the button. This will keep the button from being sewn too closely to the applique, making it harder to slip between posts on the project.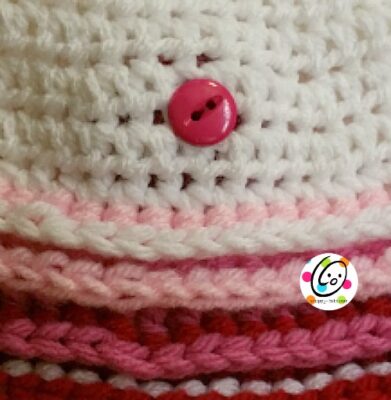 Once the button is sewn in place, slip the button between posts on the project. The photo above shows the button on the wrong side of the hat. Now the hat can be worn with or without the applique.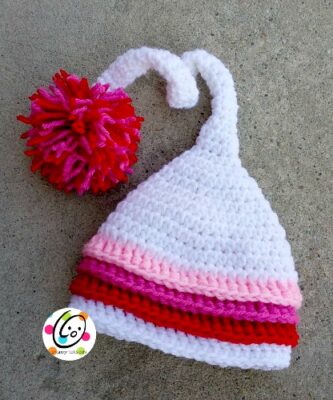 Another Tip
To help the button stay in place, especially for looser stitched projects, add a button keeper! It's a simple little circle that slips over the button on the wrong side and helps keep it from pulling through.
Directions for a 1/2″ button:
For larger buttons, start with a larger hole. Just slip your button through and make sure it is the right fit.
1. With H hook and yarn color of choice, ch 5, sl st in last ch to form a circle.
Note: if you will be using it on mostly dark items, use a darker yarn or light for light items. In this case, I used white yarn because it would be used on a white hat.
2. Sc 7 times in the circle. Finish off and weave in ends.
Viola! Here's the button keeper. Just a silly little circle, but it works great!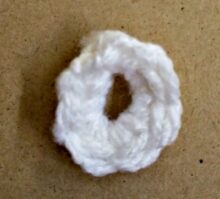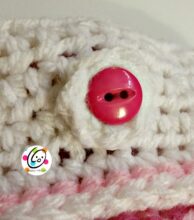 More Than Just Flowers
Now you could add these fun appliques to any crocheted item for a fun touch: