I consider myself a crafty person…until I log on to Pinterest. Holy cow! If you gauge your creativity by the millions of things on those boards, it is WAY hard to measure up. Even something as simple as Valentine's for a 2nd grader have become a craft project. This is where I earned an "Uncrafty Mommy Award" the other night.
As always, our yearly tradition is to choose a box of Valentine's from the local store. It gets narrowed down to which spiderman box includes the coolest treat. This year my 8 year old chose the ones with spidey head erasers. Thinking we are SUPER cool we head to the check out. There, in front of us, is a mom with a cart full of candies, colorful paper, glue sticks, pixie sticks, rubber bands, pompoms and so much more. While checking out she describes her daughter's class Valentine's….and I start doubting our box choice. Then she looks at me, our box of Valentines and asked if I'd heard of Pinterest.
People say strange things to me…really, they do.
Next year maybe we should do these SUPER Valentine's. Aren't they amazing?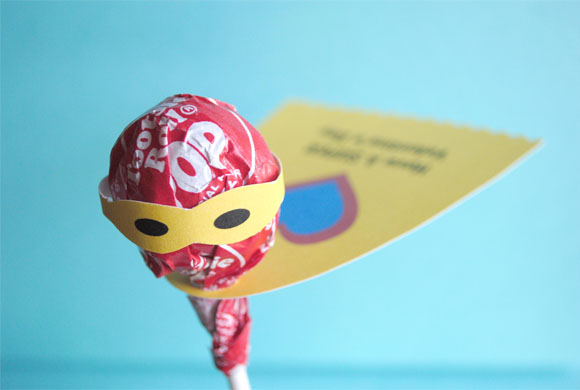 Superhero Valentine by Zakka Life…LOVE these!
Photo by Zakka Life.
In case you need some last minute ideas for Valentine's, there ARE great things on that place called Pinterest.
Handmade With a Touch of Heart
Most of these can be made in less than 2 hours. Make one tonight and give a handmade gift they will love.
Circle of Heart Pin by Fiber Flux
Valentine's Basket by Stitchin' Mommy
Eternal Love, Hugs and Kisses headband by The Crochet Lounge
Jazlyn Baby Hat by Snappy Tots
Bear-y Snugly by Hatch-ed With Love
Love is Cold Ear Warmer by Moogly
Heart Sachet by Petals to Picots
Puppy Love Beanie by 3 Boys and a Ball of Yarn
With All My Heart Preemie/doll dress by Crafting Friends Designs
Sassy Boot Cuffs by Stitch 11
Mouse Tissue Cozy by Grammyjo Lids
Swirly Cupcake Hair Clips by Twinkie Chan
Glamour Infinity Necklace by Glamour 4 You
Josette Scarf by Crafty Begonia
Knit Look Wristers by A Crocheted Simplicity
Side Step Baby Bonnet by Crochet by Jennifer
Hatchtastic Cowl and Hat by Hatch-ed With Love
Butterfly Breeze Slouch by Sincerely Pam
Cupcake Bath Mitt/Cloth by Sandy's Cape Cod Originals
Houndstooth Reversible Headband by Playin Hooky
Mom Tattoo Beanie by You Drive Me Crafty
Scrubbies by Naztazia
Heart Coasters by Twinkie Chan