As with all things, there are some tips to using Ravelry that will help make life much easier….and keep me from pulling out my hair.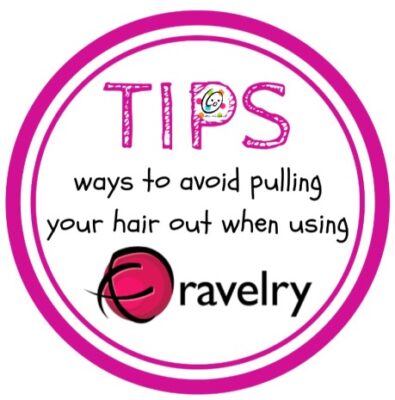 Pattern Updates
Sometimes it is necessary for a designer to send an update for a pattern. It would be super nice if that update automatically replaced the original, but that isn't so. You need to go into your library and download it. This article explains the process, step by step: https://ysolda.com/updating-pdfs-in-ravelry/
Pattern Giveaways
Designers, including myself, started doing a "free pattern for a limited time" as a great way to thank their fans and advertise. To get it to work we had to set it up a certain way and therefore you HAVE to follow the guidelines….add in the fact that there are lots of different devices and browsers and internet speeds and then throw in an overload of traffic…BOOM! A headache in the making for some.
So, let's start from scratch, slowly going step by step. I'm a visual learner and hope this will help.
First, READ EACH WORD. Really. Please don't scan over a step and think I'm just crazy. You are reading this because you haven't been able to download the pattern so it can't hurt to just stick with me.
We are going to start with a simple way and then if that doesn't work we will get more serious. Let's not jump ahead tho.
1. Sign in to your Ravelry account. Why?
Your pattern should save to your library if you are signed in and allow you to access the pattern even if it goes back to a paid pattern later.
I still suggest downloading patterns to a storage device. Call me crazy (it's ok, cuz I am), but if there is something I want to keep then I make sure I have control over the file.
CLEAR YOUR SHOPPING CART. Nothing, nadda, zippo in your cart. The words "your basket is empty" should appear like the photo below.

Choose a pattern and click "add to cart". Go to cart.
VERY IMPORTANT! Only ONE pattern can be in the cart. ONE. really. totally not kidding here. If you want to buy some on a sale it needs to be a separate transaction. If they are offering two free patterns you will need to do ONE AT A TIME.
If the shop also has a sale running that does not require a code, your cart will look like the photo below. Notice the green box. This makes some people think they will only save 50% off the pattern. You can still get the pattern for free. You need to CLICK  the part that is circled,  USE A COUPON CODE (see photo below).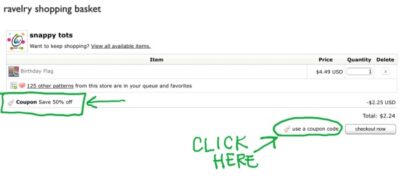 4. Click "use a coupon code". The code box should appear. Enter the code the designer has set up. DOUBLE check the spelling. Make sure there are no spaces. Contrary to some posts, the code is NOT case sensitive. We just say that so people will pay extra close attention to what is being entered.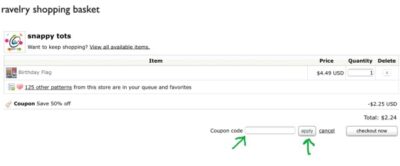 5. STOP! Make sure the total changes to FREE. If it doesn't, do NOT check out. MOST designers do NOT offer refunds because you got the file and we have posted no refunds. So make sure it changes to free so you don't get charged.
There you go! Enjoy.
If you have any tips you would like to share on this subject, please add them in the comments below.
Wait! Still Didn't Work?
WHAT? oh no! Did you READ all the way through?
Ok, now try these things:
~ Try at non peak times. When a freebie is first announced and at peak fb times, ravelry can get bogged down and glitchy. It might start to have a little freak out and it is best to just walk away and let it take a chill pill. Come back later and try again. Seriously, this works most of the time.
~ Try from a different device. I have had this work from an iphone, ipad, android, pc, mac and generic tablets. That doesn't mean that it always works on all of them. If possible, put down the phone and sign onto a pc or vice versa.
~ Clear the browser, cache, history, do the dishes, take out the garbages…oh wait, I got carried away. The point is, do some cleaning on your device and even let is restart. It's amazing how much better it will work on all sites and apps with a fresh start. I often do this with mine and have success!
~ Most important – do not blame the designer or think it is an act of conspiracy. We GIVE these patterns to EVERYONE and it literally would be impossible to block a few people from getting a pattern….at least it is beyond my brain power. These are crochet patterns, meant to bring happiness. I gave my drama llama to a farmer YEARS ago and don't even drive past the farm anymore.
~~~~~~~~~~~~~~~~~~~~~~~
If you have questions for Heidi (owner of Snappy Tots) please send an email to [email protected].