The featured patterns for day 6 in our "10 Days of Thanksgiving" crochet event are great suggestions for whipping up some quick gifts.
After checking out our dollar deals, please visit the event page, scroll to the bottom and enter for a chance to win patterns from me, Ambassador Crochet, Crafting Friends Designs and Sweet Potato 3.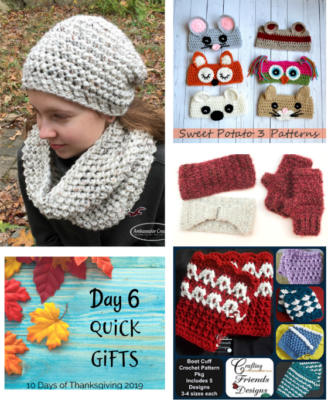 These patterns are each $1 until Monday, 11/25/19 at 8am mt (10am et) with the coupon code.
Today's coupon code: quicksix (make sure there are no spaces)
Click HERE to purchase these patterns.
New Snappy Pattern
Heidi's Favorite Warmers by Snappy Tots: This is a brand new pattern pack from me. I had designed a similar head band for an event and really liked using a hairband for the closure so I wanted to do another. I had picked up a skein of Red Heart Hygge yarn from Walmart and was excited at the outcome! PLUS, I had enough to make a pair of matching mitts. So, while the yarn is about $5 a skein, you can get a lot out of it.
Many have said they haven't been able to find this yarn yet, so I wanted to see what the band would look like from regular ww yarn. I LOVE how it shows off the texture! Choose a #4 or #5 weight yarn and give it a try. I made the full set in less than 2 hours.