I love these dusters but the refills are so expensive. This pattern is easy to follow and works up really fast. The best part is when you are done cleaning, just throw it in the wash with your other cloths and it will be ready for the next cleaning.
Want to save this for later?
CLICK HERE to add it to your favorites on Ravelry.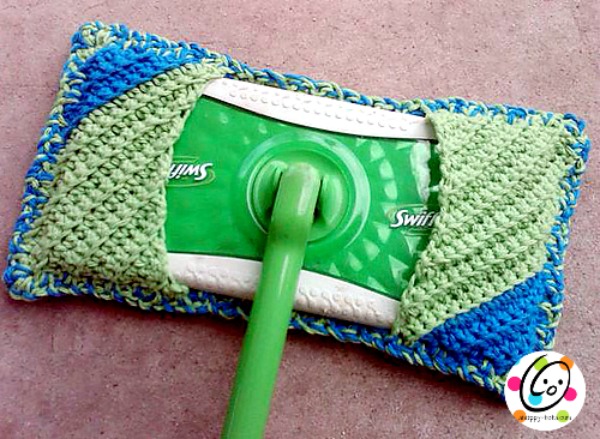 This post may contain affiliate links.
Looking for something similar?
Dust Bunny Catcher Pattern
Project Info
Project Description:
Skill Level: Basic crochet skills are needed and must be able to read a crochet pattern.
Completion Time (how long it takes the designer to make one): 1.5 hours
Of course this time will vary, but hopefully gives an idea. I always like to know approximately how long to plan for a project.
Materials and Details
Yarn: Red Heart Creme de la Creme cotton was used for this sample. Note: some people have made these with acrylic yarn and sprayed with dust cleaner.
Hook: H
Measurement: before folding under ends – 14.5"  x 5"
Instructions
Important note: the numbers below represent each step and may include several rows.
With an H hook and worsted weight yarn, ch 3, 2sc in the 2nd chain from the hook, sc in the last chain. (3sts)
Work in BLO (back loops only) from this point on. Ch 1, turn, 2sc in the same st, sc, 2sc in the last st. (5sts)
Ch 1, turn, 2sc in the same st, sc 3, 2sc in the last st. (7sts)

Repeat step 3 until there are 14 rows from the starting edge. It should measure approximately 5" down the side of the rows (NOT the diagonal). (29sts)
At this point, we'll start decreasing one edge only and continue to increase the other edge. (place a safety pin in the decrease edge as a reminder if necessary).
Ch 1, turn, sc2tog, sc in each st until 1 st remains, 2sc in the last st. Stitch count remains the same until noted.

Ch 1, turn, 2sc in the same st, sc in each st until 2 sts remain, sc2tog.

Repeat rows 5-6 until piece measures 14.5" in length or size needed to fit your duster. To check length for different sized dusters, measure the length of the duster head and add 4-4.5" for the first pocket.
NOTE: the corner diagonal still needs to be finished so don't panic if you are wondering why it looks this way.

Ch 1, turn, sc2tog, sc in each st until 2 sts remain, sc2tog. (27sts)

Repeat step 8 until 3 sts remain. Stitch count should decrease by 2 sts each row.
Finish off and weave in ends.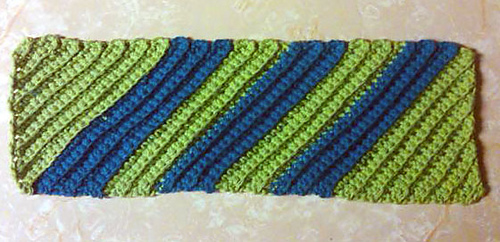 Measure your duster and decide how much can be folded back on both ends.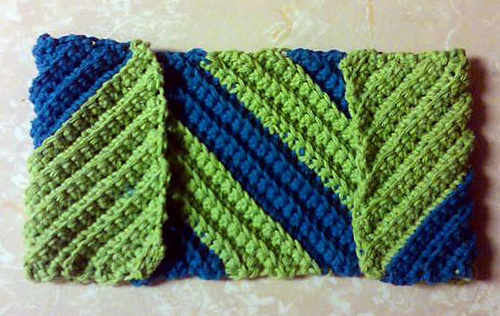 Pin the ends in place to make sure they stay even.
With an H hook, attach 2 strands of yarn to corner to work along one long edge. See arrow in photo below.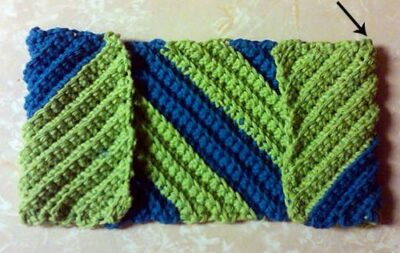 This step is worked around the outer edge of the entire piece.
Sc evenly through both folded layers, along the middle (single layer), through both folded layers. Work 3sc in corner. Pivot to the left to work across the short end. Sc evenly across the short, folded edge, making sure you go through both layers.  Work 3sc in corner. Repeat. Sl st in first st to join. Finish off and securely weave in ends.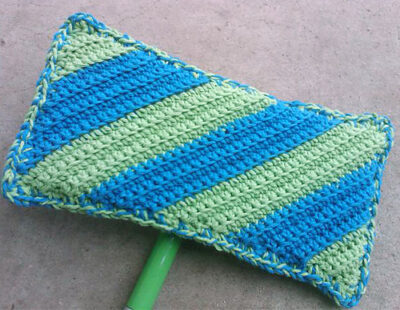 I hope you enjoyed making this quick and easy project. I would love to see your creations. Please add your project to Ravelry and/or share online and include #snappytots.
Thanks for crocheting with me!
~ Heidi

Please follow Snappy Tots on your favorites social media sites for giveaways, new release announcements, events and fun.
Check out my shop for almost 500 patterns!
Stay Up to Date with all things Snappy by receiving our weekly newsletter.
If you have any questions, comments or suggestions please
<
p style="text-align: center;">I will see that quicker than in the comments below.
Items made from Snappy Tots' patterns MAY be sold. Please include a link to snappy-tots.com if selling online.
Please do not use any photos or text from this pattern online or elsewhere without written consent from Heidi Yates. This pattern is copyrighted to snappytots and may not be copied for resale in part or whole. It is illegal to post this pattern online or share with others without written consent from Heidi Yates.