A new pattern pack in true snappy style. One bag with a ton of variations. Features are great combined with your favorite snappy patterns too. Make hats, headbands, scarves and more.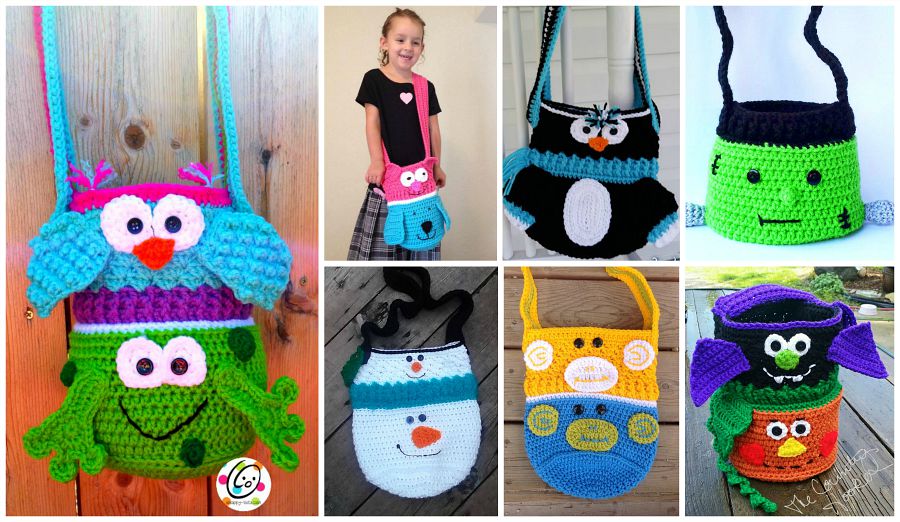 New release sale for a limited time. Only $2.49 (regular $6).


Save even more with a pattern pack. Choose any current or future snappy patterns 3/$5 or 10/$10 and help me see my new grandson 🙂 Packs available for a short time: https://snappytots.storenvy.com/
You will receive a code to use on Ravelry anytime until the end of the year. Use it for current or future releases!
Pattern includes all variations shown.
Owl/frog, snowmen, monkeys, frankie, pumpkin/bat, penguin, cow/pig, cat/dog or add features from any snappy patterns to create animals and characters.
Materials
Yarn: Worsted yarn in colors of choice
Crochet Hooks: G, H, I
Miscellaneous: yarn needle, 2 small black buttons for eyes (per section), 2 large buttons (1" or bigger) for handle decoration, sewing needle, black thread, black embroidery floss or lightweight black yarn for stitching
Gauge: not important for this project
Finished size
Bag: 9" tall x 8" across (measured flat)
Handle: 28" x 2"
Huge thank you to my testers for their awesome samples: <a href="https://www.facebook.com/GrammyJoLids?fref=ts" target="_blank">Grammyjo Lids</a>, <a href="https://www.facebook.com/lmhcreates?fref=ts" target="_blank">LMH Creates</a>, <a href="https://www.facebook.com/TheCountryHooker?fref=ts" target="_blank">The Country Hooker</a>, <a href="https://www.facebook.com/pages/Love-Hugs-and-Crochet/170130709841776?fref=ts" target="_blank">Love, Hugs & Crochet</a>, Tammy Rollston, Shaunna Hallsson


Please send an email with any questions, comments or concerns. Help with this pattern is available through email. [email protected]
All text and graphics/photos are Copyright ©2015 Snappy Tots by Heidi Yates, all rights reserved. No pattern may be reproduced or distributed, in part or whole by any means, without written permission. Finished products created from this pattern may be sold. Please include reference to www.snappy-tots.com as pattern source when possible.