Last spring I released a lamb stuffie. It is currently being redesigned, but in the meantime look how cute the features are on a hat?
Thanks to JoAnne of Grammyjo Lids for this adorable sample.
Petunia Lambikins Hat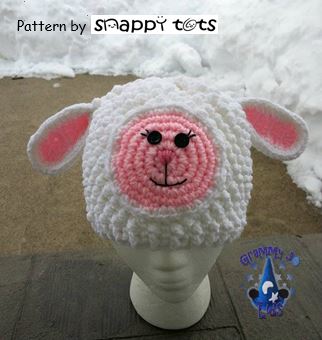 Materials
Worsted weight yarn: Red Heart Baby Pink, small amount of Red Heart Perfect Pink, White.
Miscellaneous: 2 small black buttons, black embroidery floss for smile, sewing needle and thread, yarn needle
Hook: H, I
Directions
Main hat is made using the free "Jelly Bean Slouch Hat" pattern (click the pattern title for the link). Use white yarn to make desired size.
FACE: With I hook and bulky pink yarn (or 2 strands ww), start with a magic circle of 10sts (or preferred method for starting a circle of 10 sc sts), join and pull closed.
1. 2sc in each st to end of round. (20sts)
2. sc, 2sc in next st, repeat to end of round. (30sts)
3. sc 2, 2sc in next st, repeat to end of round. (40sts) Change to lamb yarns.
4. sc 3, 2sc in next st, repeat to end of round. (50sts) Finish off, leaving a long tail for sewing in place.
Sew mouth and eyelashes in place with black embroidery floss and needle. Stitch nose in place with pink yarn.
With yarn needle and yarn tail from "face", sew to front of hat.
EARS (make 2): With H hook and light pink yarn, h 5, sc in 2nd ch from hook and across.
1-5. Ch 2, turn. Hdc in each stitch across.
6. Change to I hook and lamb yarns (or two strands of ww if not using a novelty yarn). Ch 1, turn, sc, (hdc, dc) in next st, (dc, hdc) in next st, sc.
7. Ch 1, turn. Sc in each st across, with 2sc in last st.
8. Sc evenly all the way around ear (do NOT work extra sts in corners). Sl st to join. Ch 1.
9. Sc evenly around ear one more time, sl st to join. Finish off and weave in ends. Beginning edge of ear should roll in.
Note: if using non-fur yarns, you may want to make another all white ear, then sew the two pieces together. This will help hide the pink center.
With yarn needle and white yarn, sew each ear to hat as shown in photo above.
~ ~ ~ ~ ~ ~ ~ ~ ~ ~
Common Crochet Abbreviations
Ch – chain    Sl st – slip stitch
St – stitch    Hdc – half double crochet
Sp – space; sps – spaces    Dc – double crochet
Sc – single crochet    Trc –treble/triple crochet
** – repeat instructions between, as many times as indicated
This pattern is copyrighted to snappytots and may not be copied for resale in part or whole. It is illegal to post this pattern online or share with others without written consent from Heidi Yates.  Items created from this pattern MAY be sold. Please include a link to snappy-tots.com if selling online.
~ ~ ~ ~ ~ ~ ~ ~ ~ ~ ~ ~ ~ ~ ~ ~ ~ ~ ~ ~ ~ ~ ~ ~ ~ ~ ~
Are you on Ravelry? Please add the "Jelly Bean Slouch" pattern to your library and click the heart on the listing if you  enjoyed the pattern.