Fall is by far my favorite time of year. I love everything about it, especially Halloween. I wanted a new decoration by my front door so I checked out my mom's thrift store for some ideas. I love big canning pots, but rarely see them. She had a few, plus an interesting tall, skinny metal thing. At first I thought I would make a totem pole-ish stack of Halloween characters. That skinny metal thing yelled STEM at me …and a pumpkin was born.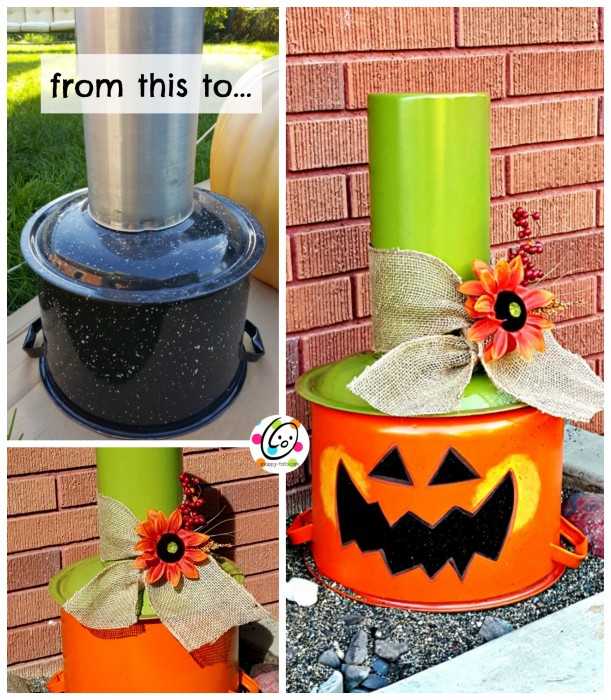 How To Make a Pumpkin
Materials
Large pot with lid
Smaller pot for stem
Note: your pots will vary from mine and that is great. Pumpkins are all different shapes and sizes. These would be cute made from coffee cans with a soup can stem.
E6000 glue: found at any home depot or similar store.
Burlap – 1.5 yards
Floral pick
Paint for face: Decoart in the following colors – pumpkin, cadmium yellow, russet, lamp black.
Spray Paint: one can orange and one can green
Note: not all spray paints are created equal! Cheaper paints are just that, CHEAP and do not cover well. I really like Rustoleum and they even have this awesome split pea green color (not really called that…I couldn't find a color name on it).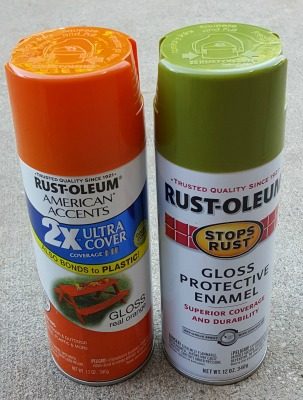 I also grabbed a darker orange for another project and …it was THEE WORST spray paint I have used. The others covered really well with 2 coats and would cover lighter things well with one coat. This one, however, would have been covered better with the mist from my other can. Do NOT buy this one: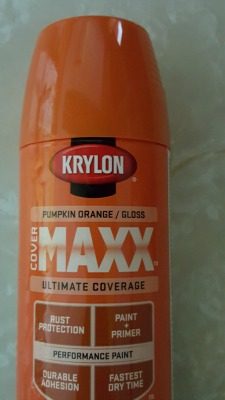 First I washed the pots and let them dry. I laid my giant piece of cardboard out on the lawn…so keep my husband from griping about spray painted grass.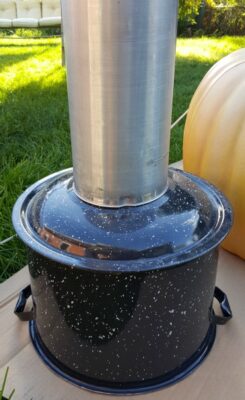 I spray painted the pot orange. The pot lid and the tall skinny metal thing are green. Allow them to dry well. Place the lid on a flat surface. Apply a bead of E6000 around the opening edge of the stem piece. Sit on top of the lid and press firmly. E6000 takes awhile to dry so I leave mine over night.
The pumpkin pot is cute with or without a face. I plan on spinning mine around after Halloween, turning him into a fall decoration.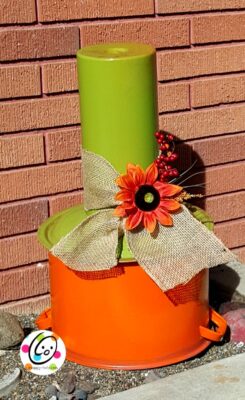 Once the glue is dry, wrap burlap around the base and tie into a bow. Insert flow pick into knot.
How to Paint The Face
I turned the pan upside down so the open end will be on the ground when finished. This way the pan lid will over the top of the pumpkin when finished.
With yellow paint and stencil brush (or old paint brush), load the paint and then brush off most of it on a paper towel. Stipple (dab) paint in two large circles for the cheeks. You should be able to see some orange through the yellow.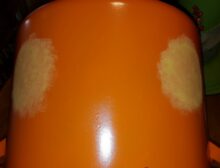 I free handed the eyes and mouth, but there are tons of pumpkin faces online. Print one off, cut out and trace in place.
With black paint and a 1″ brush (or similar) paint the eyes and mouth in place.
Allow to dry.
I like to add some shading with a wash of brown. Load a 1/4″ brush with water and small amount of medium-dark brown paint. Outline the mouth and eyes, allowing the paint to overlap onto the black. I also use a larger brush and similar paint to shade around the bottom edge.
Fly specks: dip an old tooth brush into paint from the palette plus a little water. Dap on a paper towel. Test this on a piece of paper first. Drag your finger across the tooth brush to create specks of paint.

All to dry and spray with a gloss varnish.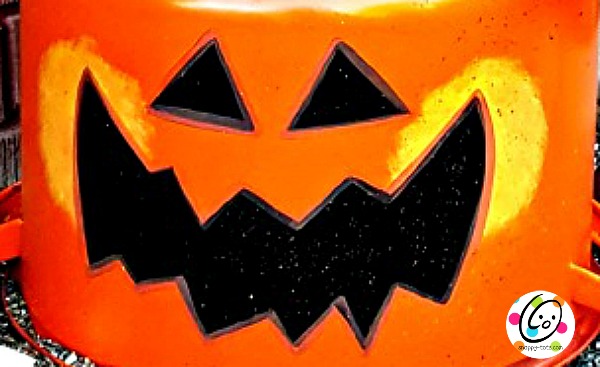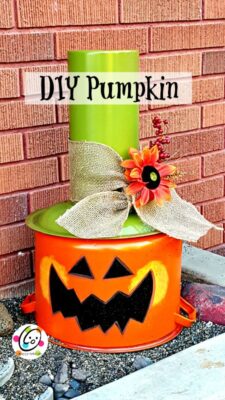 Place lid on top of pumpkin and he is done.