I went to pick up a card today to go with a group gift. Have you seen the price of cards lately? I decided I could make one for cheaper and much cuter.
I added crocheted flowers to the card…because I am a crochetaholic…but paper flowers could be used instead.
We gave this with a birthday gift. I think it would be really cute for Mother's Day and everyday happy wishes too.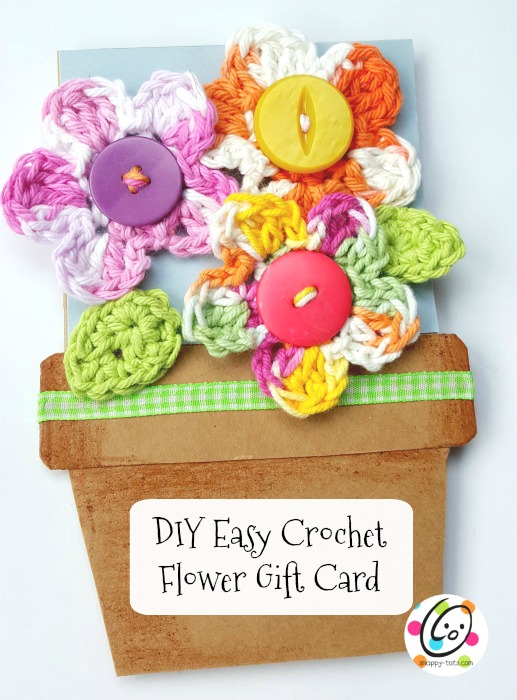 This post contains affiliate links.
Handmade Flowers Card
Materials
1 7 x 12″piece cardstock (brown, rust or neutral) for base of card
1 6×6″ piece of light blue paper
8″ ribbon
3 large buttons for flower centers
3 crocheted flowers and leaves (or paper)
3 scraps of paper in various colors
Scissors
Ruler
Pencil
Crayons or colored pencils
Glue stick
Instructions
The finished card is 7″ tall so we will fold across the 12″ edge. Fold the card in thirds.
While the card is folded, use a ruler and pencil to mark a slight angle from the bottom, approximately 2.5″ up and .75″ from each edge. Cut through all layers along the mark.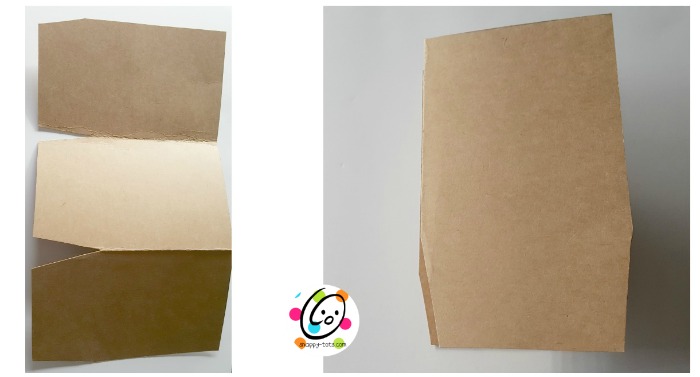 Shade the sides of the bottom section that the slant was cut from lightly with a brown crayon or colored pencil.
Cut a piece of paper to match, 1.5″ x 5″. Shade the edges of this in the same way.
Apply glue to the back of the ribbon piece and place in the middle of the strip from step 4. Wrap the edges around to the back. Glue this strip to the card (see photos below).

Cut a piece of blue paper the size of the top section and glue in place.

Sew or glue buttons on top of flower centers. Glue crocheted or paper flowers and leaves to the blue section with glue dots.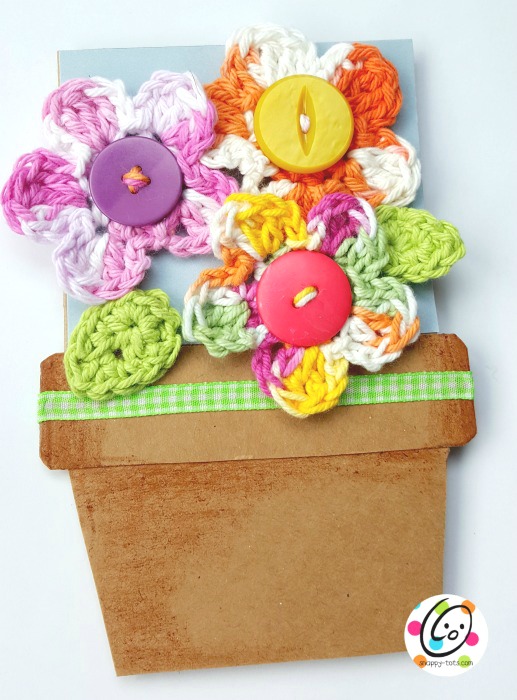 I chose to add flower pots to the inside for people to write on because there were three of us giving the gift. I had bright 3×5 index cards and cut those in a variety of shapes. I actually handed those out and had the ladies write on them instead of passing the card around. Then I drew a flower for each pot on white paper, colored them with colored pencils and cut them out. Cut outs or rubber stamps could also be used. The stems and leaves were drawn with a green colored pencil.
You could glue photos or tags instead.
The little "pots" could be pockets for individual tea bags, flower seeds, gift cards, recipes, notes, money, etc.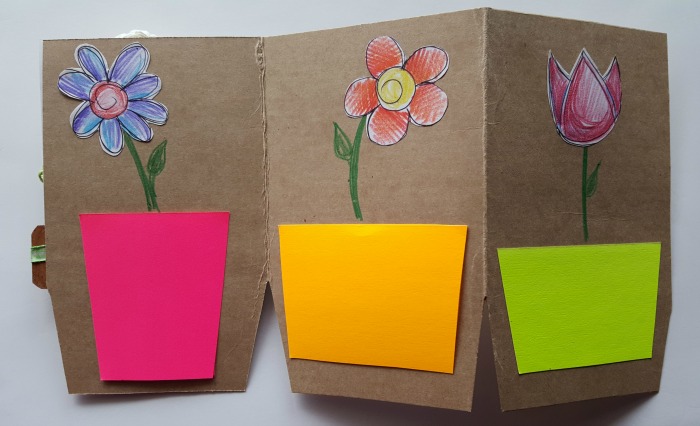 The card could be folded with the last section folded in first or like an accordion (see photos below). I used a black marker to write "happy birthday".

I hope you will enjoy making this card. Please share pix of your creations by adding #snappytots when posting on social media.
Have a great day!
~ Heidi