Have you ever gotten tired of everything in your tote ending up in a big pile in the bottom that you have to rummage through to find anything? It drives me nuts! I have a tote I use on Sundays and every week I have an inner freak out moment because it is so unorganized.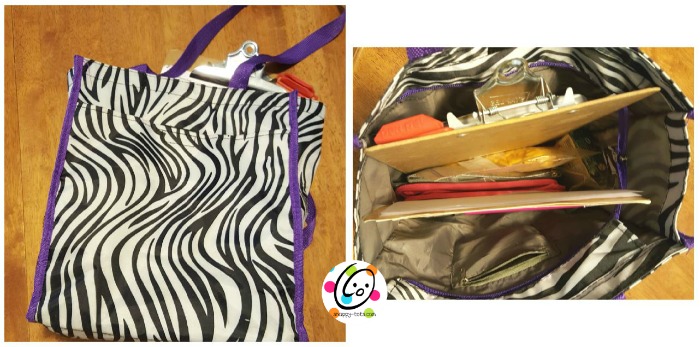 Problem Solved! I've fixed the problem for my tote and almost any medium to large tote! I had just finished my Bright Stripes Backpack and it was still sitting on my table when I was attempting to clean out my bag when I got an idea. The backpack was just the right size to slip into my disaster tote, creating sections and sanity!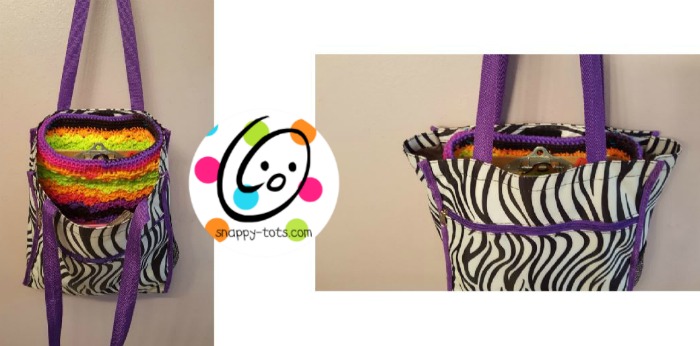 With two large snaps, a sharp needle and crochet cotton or strong thread you could do this same thing with other bags and pouches, handmade or commercially made.

Organize Your Bag
How to create your own crocheted bag insert:
Materials
Tote
2 large snaps
Sharp, strong sewing needle
Crochet cotton or strong thread
Follow the directions for my "Bright Stripes Backpack".
To add backpack straps or not: When I decided to use mine as an insert I removed the backpack straps. I really wish I hadn't. I think it would be nice to still have the option of using it by itself.
Mark placement on both bags for snaps. See photos below.
Depending on what your tote is made out of, it can be a little tricky sewing those snaps in place. I used a strong needle and crochet cotton (it is thicker and stronger than thread). You could "try" a strong glue instead, but I don't know if it would hold up over time if you unsnapped your bag a lot.

Slide the crocheted insert inside your tote and snap in place. That's it.

I hope you enjoyed making this quick and easy project. I would love to see your creations. Please add your project to Ravelry and/or share online and include #snappytots.
Thanks for crocheting with me! 
~ Heidi