There is a big Joann store right behind a Home Depot. I go to the "girl store" and my husband goes to the "guy's store" (woa, just a sec… I am very aware that guys and girls go into both so just hold on a sec all you keyboard commandos).
I went with him and did some shopping of my own!
BAGS!
First, I went crazy looking at the tool bags. Have you ever seen how many wonderful ones they have? For a few years people have been sharing a photo of the tool pouch bucket covers turned into a yarn tote. It is a neat idea, but those buckets aren't really mobile. For home use they still would be an inexpensive project tote. It also would be fun to use for a craft/crochet lovers gift basket.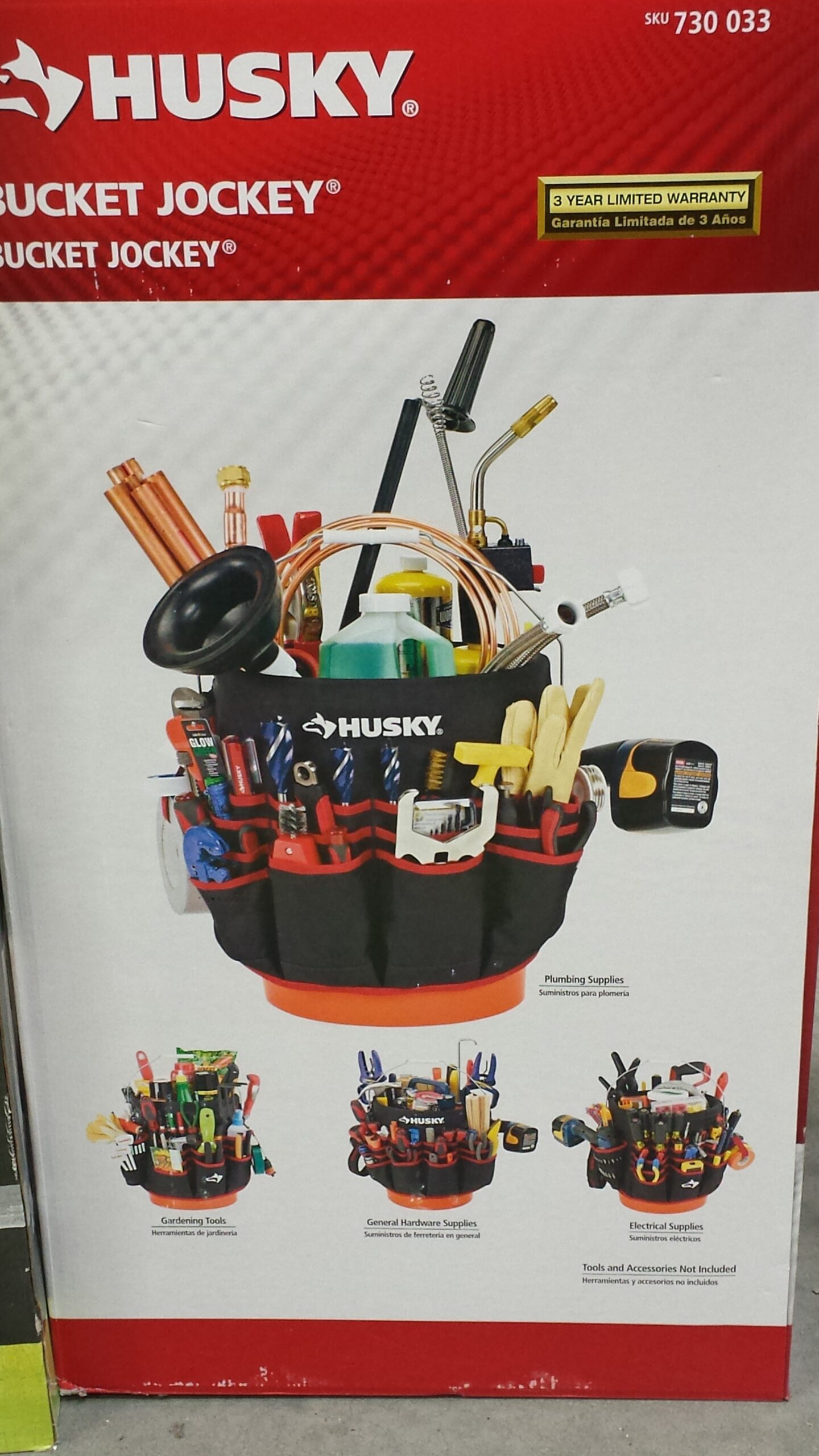 Now, for my favorite. Miss Snappy helped model this awesome tote. It is big enough for projects, multiple skeins, supplies and books, yet the shape makes it more mobile. The inside is lined with nice sized pockets.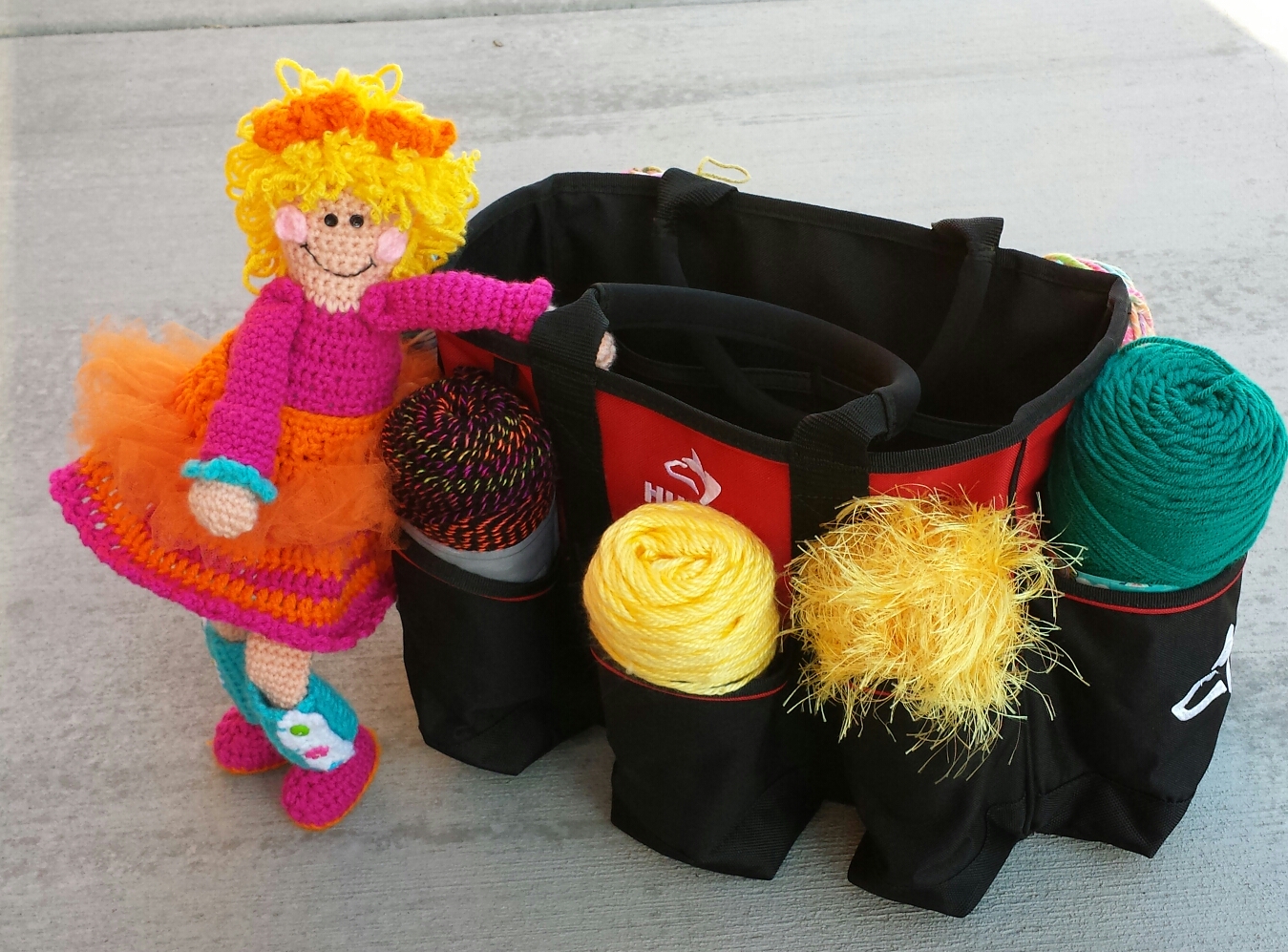 Hooks
Next, Hayden found a bunch of carabiners. They come in a variety of shapes and sizes. I picked a few of each and decided they would be super cute crocheted with some flowers. These are fun for backpacks, purses, key chains. The smaller ones would be awesome bracelets and necklaces.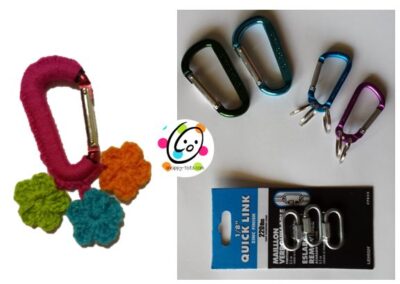 Carabiners can be found in a lot of stores, even dollar stores. Here is how I snappified mine:
Materials: G hook, carabiner, worsted weight in a variety of colors, 2 tiny rubber bands (Goody hair bands work great)
1. Slide a rubber band on main part of the carabiner, not the hinged arm at each end of colored section. This will keep the yarn from slipping off.
2. Attach yarn to carabiner, near top. With G hook sc around the carabiner. Continue to sc around, squishing yarn together to fit as much on the colored section as possible. For the 3″ carabiner I had 50sts.
3. Ch 5, turn, sl st in 2nd ch from hook and in each chain back to carabiner. Sl st in next 4 sts, ch 7, sl st in 2nd ch from hook and in each chain back to carabiner. Sl st in next 4 sts , ch 5, sl st in 2nd ch from hook and in each chain back to carabiner. Sl st in next st. Finish off. Use a yarn needle to pull the yarn tail through sts.
First flower: attach orange yarn to the tip of the first ch (hanging down from carabiner). All stitches are worked into this stitch at tip of chain. *ch 2, 2dc in st, ch 2, sl st in st*, repeat 4 more times. Finish off and weave in ends.
Second flower: Repeat the previous step. Attach green yarn to center chain.Third flower: Repeat step #3. Attach blue yarn to end st of 3rd chain.
Best Find
As we were checking out I found this little tote for only 50 cents! As I looked at it I realized it was a big tote! So when I got home I opened it, fluffed it in the dryer a bit and dressed it up!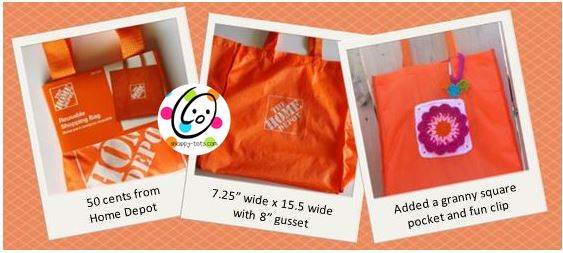 I added a granny square (my free pattern) as a pocket, then clipped the carabiner to the handle. I also cut some cardboard and put in the bottom to create a flat bottom in the bag. Isn't it cute? I am going to pick up some more.
I hope you have liked my little adventure and project. Please let me know what things you have found in unique places for craft projects.