This old cookie jar kept telling me it had so much potential. It didn't want to stay trapped in this out dated look. Owls have been popular again for awhile and I hope they stay for long time. I LOVE making them so I wanted to save this creepy looking bird. My mom suggested he would make a fun planter for flowers. I just needed to figure out how I wanted to paint him.
I brought him home, gave him a bath and sat him on the counter. I waited for him to tell me what he wanted to look like. In the meantime, my family all decided he was creepy and covered him with a towel.
I envisioned tons of bright colors and shading those feathers. BUT I wanted something easy enough my non-tole painters could do too. Decoart had sent me jars of "chalky finish paint" to try so one afternoon I dove right in.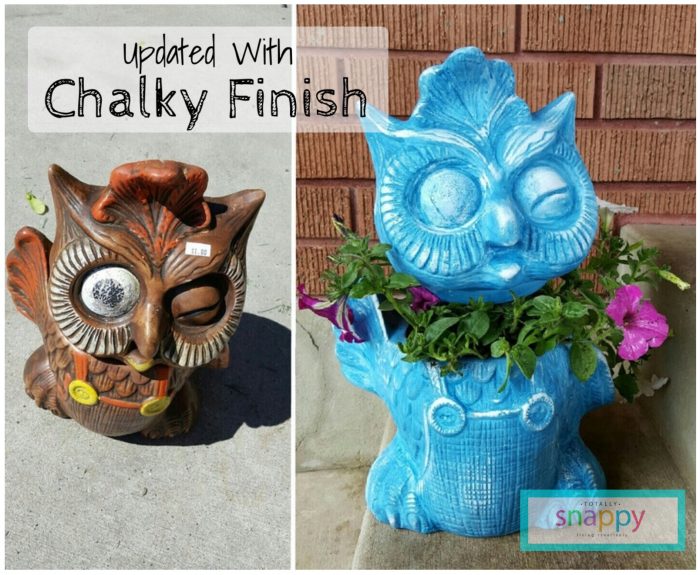 Update
After three months of sun and water, he's still bright and beautiful. The paint has held up beautifully and look how well the flowers have done.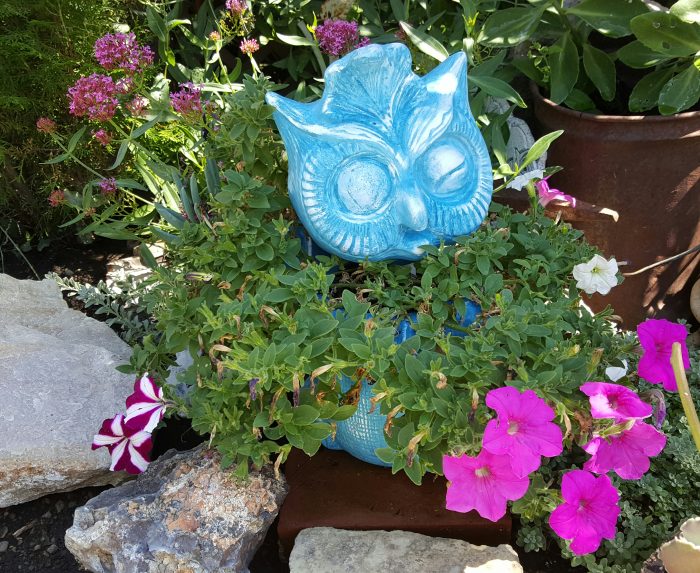 Chalky Finish Planter
Directions
First I washed the cookie jar. It had a little kitchen grease on it so I used a Miracle Sponge to remove it.
I wanted a white base coat under the blue chalky paint. I could have brush painted the whole jar but I had a can of white spray paint on hand. I applied two coats and allowed it to dry 24 hours. Since I would be scrubbing at the paint I wanted to let the paint cure well.
I covered my table and had some paper towels handy. I used a 1″ paint brush to apply the paint and scrubbed some off with paper towles. As I removed the paint I chose areas to "highlight". The white base would act as the highlights.
When dry I got my potting soil and flowers together. Since I wanted the head to sit on top, but allow the flowers to poke out between I needed the head to hover. My husband cut a piece of PVC pipe for me. I put it in the base section and firmly packed the first 2/3 with dirt.
TIP: double check the height of the PVC pipe before packing the dirt. Mine was too long and the head ended up like a long neck bobble head. So, I carefully pulled the pipe out, had it cut shorter and (thankfully) was able to put the pipe back in the same hole in the dirt.
Plant the flowers and add more dirt. Sit head on top of pipe. I did not blue the head on. I wanted it to be easy to remove for watering and replanting.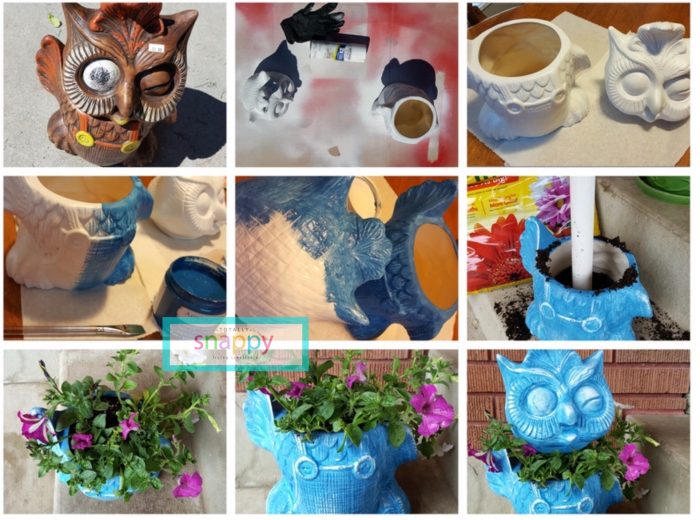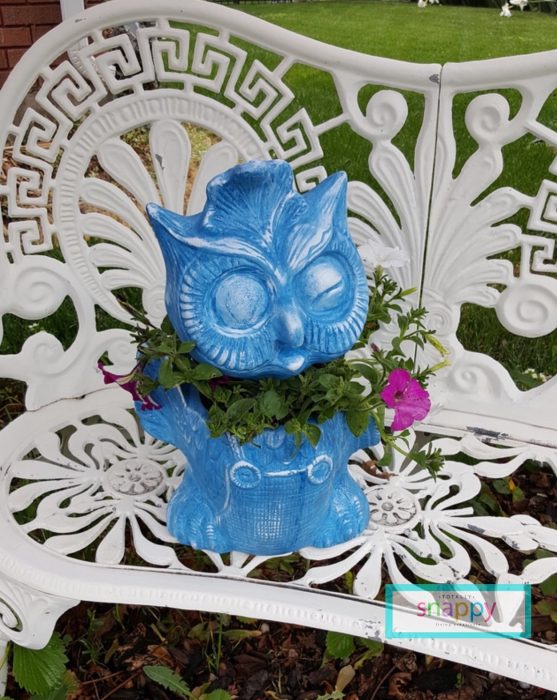 Have you tried chalky finish paint?
I would love to hear about your projects and see what you have created. Please comment below or add #totallysnappy to your social media posts.