Gingerbread kids add a cute touch of whimsy to our "Countdown to Christmas Calendar". I have searched and searched for a pair that was just right and found it from BellaCrochet.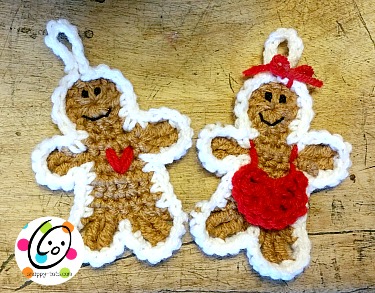 MATERIALS
Note: The pattern calls for thread and small hook, but made from ww yarn and H hook they turned out the right size for our calendar.
Yarn: Ww in white, warm brown, red
Crochet Hook: H
Miscellaneous: Yarn needle, black crochet cotton or embroidery floss, embroidery or sewing needel
Directions: Follow directions as written for making "Little Gingerbread boy and girl" by Bella Crochet. After the base ornament is made, attach white yarn to a st at the top of the head. Ch 10, sl st in same st, sc evenly around ornament, with 2sc in each st at tip of arms and legs and 2sc around each post along the sides of the arms and legs. Finish off and weave in ends.
I also stitched straps above the apron on the girl and heart on the boy with red yarn. Stitch faces in place with black crochet cotton or embroidery thread. Tie a bow on the girl with red yarn.