Thanks to snappy peeps, the "Beanies for Bravery" project has sent a ton of beanies over the past 11 years. The majority of which have been sent to U.S. soldiers in Afghanistan.
As many of you know, my oldest son has deployed multiple times with the U.S. army. His first deployment was in October, 2013. Because of many of you, we were able to send 100 beanies to him and his unit. He got 4 packages stuffed full of beanies right before Christmas that year and handed the majority of them out right away. The rest were given to the chaplain to go to soldiers as needed. Each package we ship is important and greatly appreciated. If you are interested in helping with this project, please see the guidelines. We ship beanies each August-January.
Since our son was gone during the holidays that year, I wanted to make something for our family in honor of him and his service. When he left he told us he was going to Hogwarts (BIG Harry Potter fans) because he knew we were all worried about him. He flew on a giant plane (aka "the Hogwarts Express).
I made Harry Potter-ish scarves in military shades, tan and olive green. They are not as wide as HP scarves, but they are the standard 7" long. I made beanies for the men in our family because I thought they would prefer those instead of scarves. Since the HP scarves have patches, we needed patches on ours too. My husband found the patch our son wears and we checked to make sure it was ok to use them (just for personal use). I was VERY excited to give them out.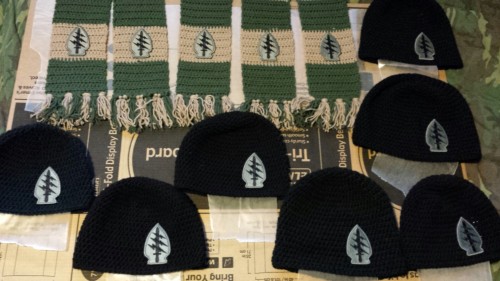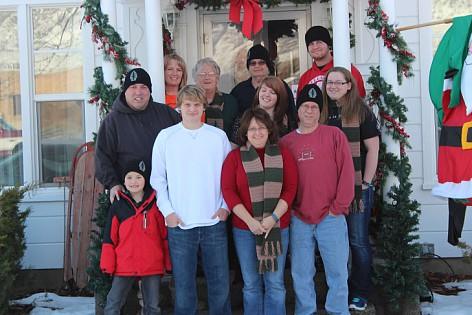 Isn't my family cute?! They are very good sports. I hope they will enjoy their hats and scarves and I know they will keep our soldier in their thoughts and prayers. I have gained a HUGE respect for our military and their families. If you ever get the opportunity, please thank a soldier for their service.
Would you like to make a scarf to cheer someone on? They are super easy. Each scarf took about 3 hours from start to finish.
Cheer Them On Scarf Crochet Pattern
Materials
Yarn: worsted weight yarn in 2 colors of choice (I used Loops & Threads Impeccable in Soft Taupe and Deep Forest)
Crochet Hook: I hook (5.5mm)
Directions
With an I hook and green yarn, ch 23, sc in 2nd ch from hook and in each ch across. Note: for wider scarves, start with a longer chain.
Ch 2, turn, hdc in the same st and in each st to end of row. (22sts)
3-10. Repeat previous row.
Change to tan yarn. Ch 2, turn, hdc in the same st and in each st to end of row.
12-19. Repeat previous row.
Repeat rows 2-19 until scarf is approximately 7ft long, or desired length. Note: each stripe is 9 rows.
Finish off and weave in all ends. Add tassels across each short end of scarf, alternating colors.
Adding patches
After checking with some super knowledgeable peeps (thank you Rita from Schmibble & Co), we decided to attach the patches with glue. I used E600. I placed a piece of wax paper under the scarves and inside the beanies (you can see this in first photo above). Glue did not soak through. It worked great!