March definitely came in like a lion this year and is still roaring, don't you think? I am hoping for a nice little lamb departure for sure.
Every year I've always heard "if March comes in like a lion it will go out like a lamb" and vice versa. For some reason this always fascinates me so this year I decided to make a pillow that has a lion on one side and a lamb on the other.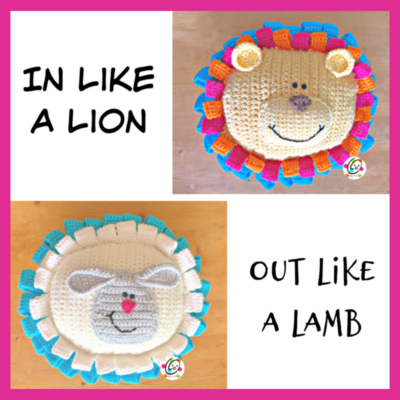 While making the pillow I got wondering where the saying originated and if it is just a Utah saying. We do have strange weather this time of year that is changes day to day.
According to Wikipedia, "The oldest known written reference to the "lion/lamb" proverb comes from English author Thomas Fuller, who included it in a 1732 volume of proverbs. The simple explanation of "in like a lion, out like a lamb" is that when March starts it's still officially winter. When the month ends, it's officially spring. The month opens on fierce cold weather and ends on much gentler weather."
Crochet Patterns For Changing Weather
Thanks to lots of awesome designers, I have gathered together the following crochet patterns that are great for the end of winter as it starts to warm and for the start of spring when it can still be chilly.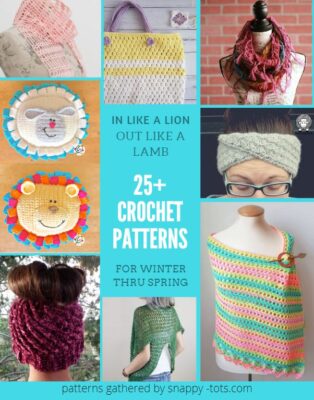 Several are free on their blogs and a few are a small fee. ALL are worth giving a try. I hope you will find some wonderful new projects and designers to follow. Thank you for taking the time to support our creativity.
Fuzzy Pom Scarf by Another Mum Fights The Dust (free): "it is so soft and squishy… and those pom poms just add the perfect touch! Hence the name Fuzzy Pom Scarf! This scarf will definitely keep you warm all winter long!"
The Sunny Sorbet Scarf by Bear Rye (free): "This gorgeous design can double as a shawl or a scarf, making it perfect for the last of the snow and those chilly spring evenings."
The Split-Back Cardi by Coco Crochet Lee (free): "Spring means light and airy garments, and I have the perfect one to share with you! Say 'hello!' to the Split-Back Cardi, a lacy darling that is made in one long rectangle with two easy seams!"
---
X-capade Poncho by Creations by Courtney (paid): "It's designed to be a one size fits most with completed measurements of 40 inches wide by 57 inches long without the fringe. It's a straight-forward design that be adjusted to be narrower or wider, shorter or longer, which will require a different amount of yarn."
The Skyscape Shrug by Evelyn and Peter Crochet (free): "It's the perfect project to work on while binging your favorite show on Netflix because you repeat the same few rows over and over! It is also super easy to customize."
Freesia Bag by Emma Wilkinson (paid): This bag is "inspired by the fresh colours of spring and my mother's love of freesias."
---
Ode to Spring Crochet Bobble Scarf by Jen Hayes Creations (free): "Created using only the most basic stitches; chain, single crochet, double crochet, and a bobble here and there, it's the perfect piece to allow you to just sit down and almost mindlessly create. Don't let the simplicity fool you though, this is a beauty that anyone will love."
JP Flower Bag by Snappy Tots (free): "I designed these flowers as a washcloth for a friend, but I thought they would make a great applique on a bag too. This simple bag really shows off their beauty."
Simply Lace Scarf by Kirsten Holloway (free): "With spring just around the corner, I've been wanting a lightweight, lacy scarf that would be pretty, and be simple enough for beginners to crochet."
---
Diaphanous Scarf by Fos Bas Designs (free): "This Crochet scarf pattern uses different stitches in the various sections which means you won't get bored making this pattern. Looking for a stash busting pattern? Then this pattern is your go to."
Infinite Hues Crochet Scarf by Jen Hayes Creations (free): "It's the type of design that I love from my head to my toes, it's my perfect scarf…"
The Wanderlust Shawl by Heart Hook Home (free): "This shawl is warm, it has pockets, and is perfect to wear over your favorite top. It's a quick one to crochet, too!"
---
Gathering Driftwood Crochet Shawl by Knitting With Chopsticks (free): "The Gathering Driftwood crochet shawl pattern is the perfect transition scarf. It's an easy beginner triangle scarf."
Snowbound Cowl by Made With A Twist (free): "The stripe and bobble design give amazing texture to this piece and the secret to its adjustable design is the unique toggle-button that can be repositioned to give the cowl any look you'd like."
Lambert Little Sheep by Mignon Crochet (paid): "This cute little sheep Will Be Delighted to cuddle your little ones."
---
Textured Fall Poncho by Nickis Homemade Crafts (free): "I feel like the Poncho is the perfect garment to wear to show off a beautiful design, being dressed stylishly without being the focal point of the occasion. Although, you might actually make many people say "Oh wow"."
Tropical Breeze Wrap by Oombawka Design Crochet (free): "The Tropical Breeze Wrap is lightweight and perfect for cool evenings in the summertime! The Tropical Breeze Wrap would also make a great stashbuster project."
Spring Mornings Heaband by Posh Pooch Designs (free): "I really love the versatility of this headband pattern. It's a wide headband, that's wide enough to be used as an ear warmer, also."
---
Ragdoll Lion by Spin A Yarn Crochet (free): "I think this pattern can be very easily adapted. For example, if you used brown yarn, you could leave off the mane and the tail and *poof*, a bear!"
Velvet Twist Messy Bun Hat by Straight Hooked (paid): The texture of this hat is amazing! I love the look of the velvet yarn and it really adds so much.
---
Twisted Shells Ear Warmer by The Loopy Lamb (free): "The twisted shells ear warmer has a slight twist in it that when worn, looks like it is kind of crossed or wrapped on your head. This type of ear warmer looks great on everyone and can be worn a few different ways."
Magnolia Cardigan by Two Brothers Blankets (paid): "This cardigan makes a wonderful transition piece as the weather changes either in spring or fall! Or wear it over a sweater in the winter for an added layer! It's so versatile!"
Piper Hooded Shawl by With Alex (free): "I love the pattern repeats and think they make this project easy but fun. I also love the fact that by changing the color of yarn, the motif can resemble a rain drop or a falling leaf."
---
Easy Crochet Flowers by Rich Textures Crochet (free): "I love these little flowers and I picture them being used in a variety of ways. You could add them to a card you might be making or perhaps add them to a crochet bag, top or hat."
Think Spring Cowl by Yarnutopia (free): "Even as the temperatures begin to warm up, this on-the-go cowl will be perfect into the cool days of early spring!"
Pin To Save For Later