My first hanging towel pattern was super popular and I have had lots of requests for another. This one has waves to celebrate an incredible summer. It is longer, making a really nice size towel. Leave off the topper for a 12″ square or make the matching "Surf Wash Cloth" for a nice gift set.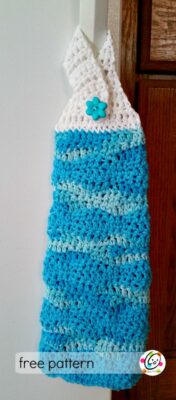 Surf Hanging Towel
Materials
Yarn: Worsted weight cotton in 2-3 colors
Main color = color A
Contrasting color = color B
Top Color
Crochet Hook: H
Miscellaneous: yarn needle, 3/4″ button, sewing needle, matching thread, pins for holding in place (optional)
Gauge: 4″ = not necessary for this project
Size: 16.5″ long (with folded hanger) x 11.5-12″ wide (open towel)
Special Stitches
Chunky Hdc: YO twice, insert hook in designated st, pull up a loop, YO and pull through all loops on hook.
Tip: As you pull through the loops, pull through two, slightly rotate hook and pull through the other two loops. That will make it easier to get through the loops.
Need more help? See this Tutorial on the chunky hdc stitch
Directions
Note: The first st of each row is worked in the same st as the turning chain.
1. With h hook and color A yarn, ch 41, sc in 2nd ch from hook and in each ch across.
(40sts)
2. Ch 1, turn, sc, hdc, dc 3, hdc, sc 2, repeat to end of row.
3-4. Repeat step 2.
5. Change to color B yarn. Ch 2, turn, hdc, sc 3, hdc, dc 3, repeat to end of row.
6-7. Repeat step 5.
Repeat steps 2-7 until cloth is 12″ from starting edge.
Finish off and weave in ends. End here for a nice size cloth or continue and add the topper.
Topper
Fold cloth in thirds as shown in photo. Approximately 10 sts will overlap with 2-3 sts on either side. Pin layers together to hold in place.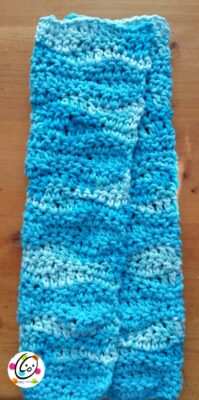 Attach white yarn (or color of choice) to top, right corner.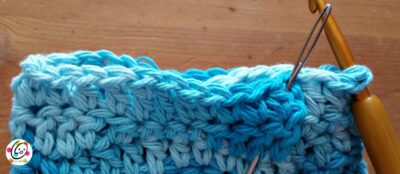 Ch 1, sc 15 sts evenly across, working through all layers where they overlap. (15sts)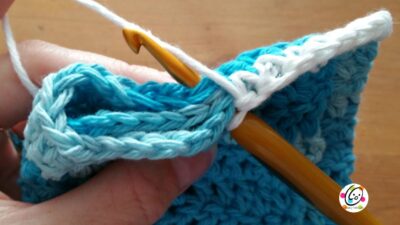 Ch 2, turn, hdc2tog, chunky hdc (see "special stitches" above) in each st until 2 sts remain, hdc2tog. (13sts)
Repeat previous step until 5 sts remain.
Ch 2, turn, hdc, chunky hdc 3, hdc. (5sts)
Repeat previous step for a total of 14 rows.
This step creates the button hole. Ch 1, turn, sc in same st, ch 2, sk 3, sc in last st.
Ch 1, turn, sc in same st, 2sc around ch from previous row, sc in last st. Finish off and weave in ends.
With sewing needle and thread, sew button in place near the bottom of the topper section.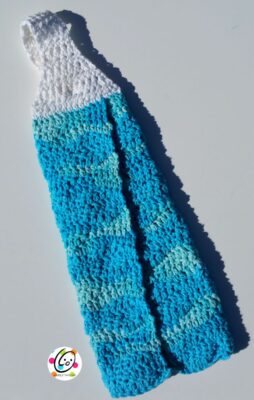 Matching Set
Make the matching wash cloth for a nice gift set. Click HERE for the Surf Wash Cloth pattern.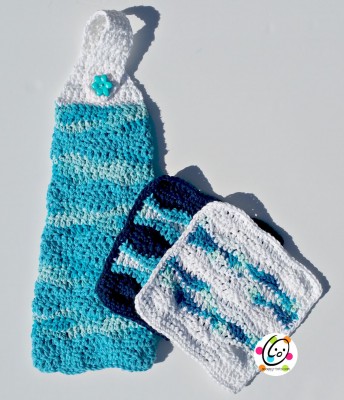 ---
As part of my quest to work on gifts throughout the year I will be sharing a different scrubbie pattern each week throughout 2015.
All featured scrubbie patterns will be on the "DIY cleaning & Organizing" Board.
Follow other snappy boards for gift making ideas and random quirkiness! Here are a few: Rocking Out The Projects, Gifts to crochet/make
---
This pattern is copyrighted to snappytots and may not be copied for resale in part or whole. It is illegal to post this pattern online or share with others without written consent from Heidi Yates. Items created from this pattern MAY be sold. Please include a link to
snappy-tots.com if selling online.