It is fun trying different stitches so when I had the opportunity to participate in the Battle of the Stitches I was excited to give it a try. My Battle Bird didn't win but I still had fun making it and love how it turned out. I made mine out of variegated cottons so it could be used as a hooded swim towel. When I get time I want to make one from worsted or bulky weight yarn for a nice hooded blanket.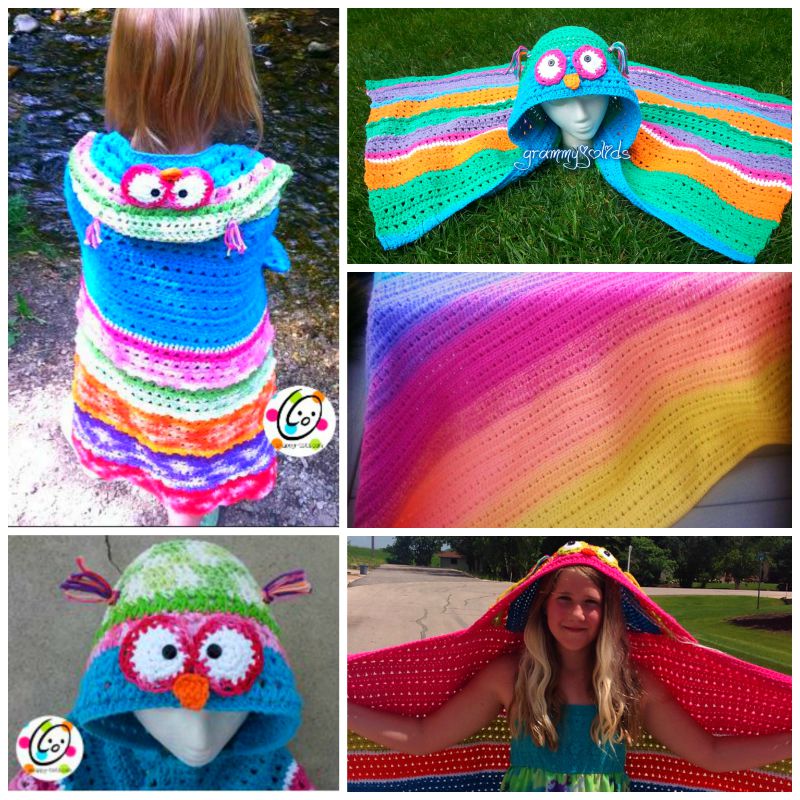 Materials
Yarn: worsted weight cotton yarn in a variety of colors. Pattern is written for color changes as shown in sample, but any color combination could be used. A list of yarns used in sample is below.
Crochet Hooks: G, I
Miscellaneous: yarn needle, sewing needle, black thread, 2 small black buttons for eyes
Gauge: 4" = 12 hdc stitches and first 9.5 rounds of towel section
Yarns used in sample
Lily Sugar 'n Cream Colors: 250 yards Hot Blue (turquoise), 150 yards White, 50 yards Hot Pink (plain bright pink), 50 yards Hot Green (plain lime green), 50 yards Hot Orange (plain orange), 50 yards Hot Purple (plain purple), 50 yards Red (plain red).
Red Heart Crème de la Crème: 100 yards In The Pink (pink variegated), 130 yards Greentones (green variegated), 120 yards Orangetones (orange variegated), 100 yarnds Purple Tone (purple variegated), 100 yards Bowl of Cherries (red variegated)
Note: This is designed to be a hooded towel and made from cotton to absorb water. It could also be made with acrylic yarn for a hooded blanket or cape.
Awesome Samples
Check out these amazing blankets people have made: