Crocheted wash and dish cloths are wonderful! They are easy to make, great to use and make awesome gifts. Every year I wish I had a stock pile to use for last minute gifts. SO, as part of my quest to work on gifts throughout the year I will be sharing a different scrubbie pattern each week throughout 2015.
For our first scrubbie pattern I chose "tiny towels" by Simply Collectible Crochet. When I started my first one I had no idea just how tiny it would be. Oh my! I giggled when it was finished. It measures 4.5 x 5″! I couldn't wait to start a second and kept going. Each towel took 10 minutes from start to finish and very little yarn. Aren't they adorable?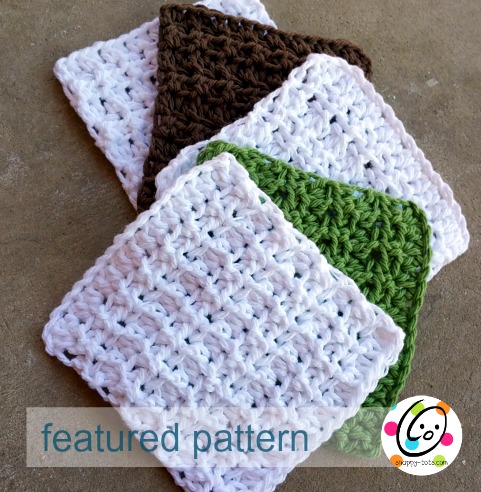 Click HERE for the pattern. It calls for an H hook and cotton yarn.
I made these for my new grandson so I chose colors to match the nursery. They are the perfect size for wee bums, little noses and piggies. Two could be sewn together to hold soap or even an ice pack for boo boos.
---
I hope you will follow Celina Lane, the creative mind behind Simply Collectible for more great patterns.