Gobble! Now there's a snappy turkey! I just love this fella. Those that know me are aware that the color brown is on my least favorite list. This new guy, Tom the turkey (yep, super unique name), kept telling me he had to be brown and fall colors and I am glad I listened to him. He definitely struts his stuff and makes me smile.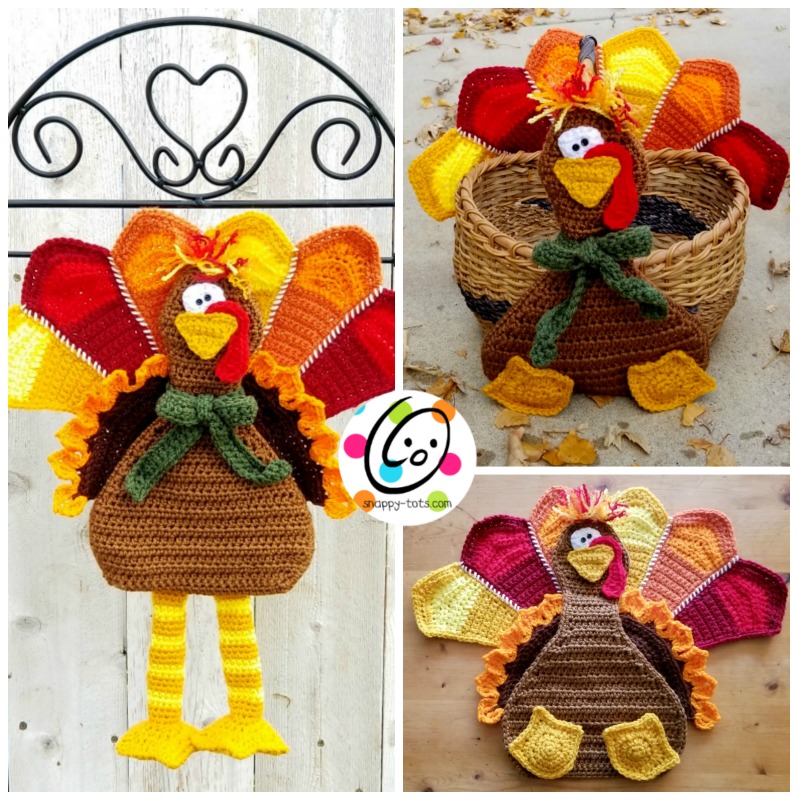 The Original
Of course, he started as a flag and door hanger. My awesome peeps in our Totally Snappy facebook group were EXTREMELY excited for a turkey flag so he jumped to the front of the design list. I LOVE their support!!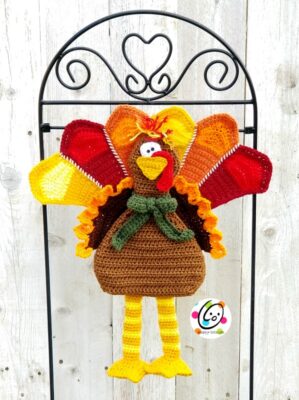 For the Table
Then, he said he wanted to join dinner BUT not as the main course. So, I made him into a placemat. This way he can enjoy the family gathering much more and will hold your plates full of potatoes, stuffing and…ham.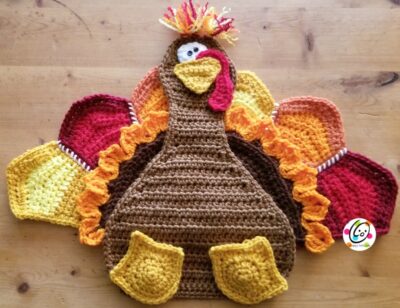 A New Favorite
My mom sent over some paints in this totally cute basket. It was sitting on my table as I was laying out the turkey pieces and gave me an idea. I LOVE how this turned out!! Growing up we had a special basket for rolls. I think this is a cute way to put the rolls out or even full of napkins. Hey, have him hold everyone's cell phones during dinner!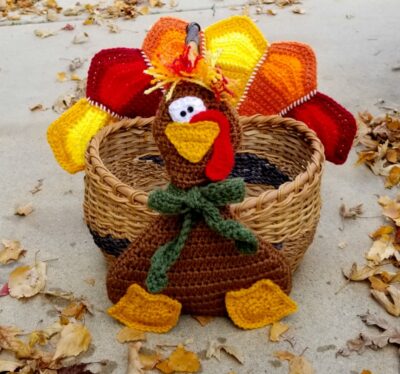 About the Pattern
** Brand new pattern! Get this pattern for only $2.00 (regular $5.00). Offer ends this weekend (11/13/17)**
Included in pattern: Instructions for making a flag/wall hanging, placemat, or items to attach to a basket.
Materials and Details
Yarn- worsted weight yarn in 2 shades of each of the following: brown, orange, yellow, red; small amount of white and Soft White.
Sample colors: Red Heart Soft Toast; Red Heart Super Saver Gold, Bright Yellow, Cranberry, Cherry Red, Carrot, Pumpkin, Coffee, White, Soft White
Crochet Hooks: H, I
Misc: yarn needle, stitch markers, scissors, measuring tape, 2 small black buttons for eyes, sewing needle, black sewing thread, brown felt (optional for basket version)
Variations: Decoration for placemat, wreath: 18" wide x 13" high Flag/Door
Hanging (with legs): 18" wide x 23" high
What Will You Make?
Which style is your favorite? Please let me know in the comments. If you make something from this pattern I hope you will share too.
Happy Thanksgiving! I hope it is a glorious day for you, your family and close friends.