This is seriously the simplest, quickest little scrubber thing I've made. Yes, yes there ARE more exciting patterns available BUT these serve a higher purpose 🙂 …to be revealed later….PLUS these are so plain you will totally WANT to scrub a pan and not worry about ruining that special cloth you spent an hour on.
First, let me tell you how they came to be. My mom got a SMARTPHONE and we begged enough that she now has TEXTING!!! You have no idea how excited I get when a text pops up from my mom! YAY. Anyway…this really is important info because it is why I made these odd little scrubber things.
Have you ever found yourself sitting some place and realized "I could be crocheting right now"? That was me last Saturday as my husband was setting up the new smart phone. The little light bulb popped up above my head because I realized I was in a house with the very best craft room on the planet and I knew where the yarn and hooks were!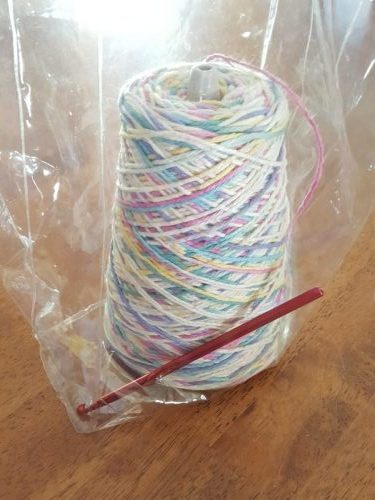 I LOVE that my mom has these heavy plastic bag things. This colorful spool of cotton was already sitting in this bag like it was just waiting for me. Hmmm…now to find a hook. Then I remembered she stored my grandma's itty bitty too-small-to-see steel hooks in her beautiful antique sewing machine cabinet. Maybe normal hooks would be there too…ta da! Within a couple of minutes, I was set and back to lending my support to the smart phone set up.
Now, what to make??? It needed to be something that took little concentration because my husband tends to need random help during projects PLUS I wanted to visit and be part of the convo.
I am working on …something… and needed some bright colored extras to fill in the special thing I am working on (more info on July 26). I decided I would make a simple coaster, scrubber thing. Those are quick and would add the bright colors I need.
THEN, as I was going around and around, I decided to try and make them like splats of paint. I used to paint a TON and it seemed like everything ended up with some paint splatter on it somewhere.
There you have it. The birth of these odd little scrubber things.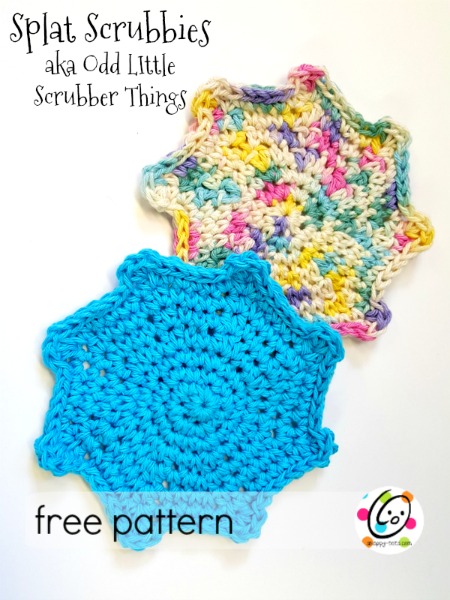 Splat Scrubbies aka Odd Little Scrubber Things
Project Info 
Skill Level: Basic crochet skills are needed and must be able to read a crochet pattern.
Completion Time (how long it takes the designer to make one): Seriously less than 15 minutes
Materials and Details
List of supplies: less than 50 yards of cotton yarn.
Crochet Hook: I used an I hook but you could use any hook F-J. Size will be affected.
Measurements: 6″ across with an I hook
Instructions
With hook and yarn, start with a magic circle of 8 sts (or preferred method for starting a circle of 8 sts), pull closed and place a marker for working in the round. Do not join at the end of each round. (8sts)
2sc in each st to end of round. (16sts)
*sc, 2sc in next st*, repeat to end of round. (24sts)
*sc 2, 2sc in next st*, repeat to end of round. (32sts)
*sc 3, 2hdc in next st*, repeat to end of round. (40sts)
*sc 4, 2hdc in next st*, repeat to end of round. (48sts)
*sc 5, 2hdc in next st*, repeat to end of round. (56sts)
*sl st 6, 3hdc BETWEEN posts from previous round (see tip below)*, repeat until 7 sts remain, sl st 6, 2hdc between posts, ch 1, sl st in first st of round. Finish off and weave in ends.
Tip: drop down below where you would work the stitches and work all three between the posts of the 2 hdc from previous round.
Larger Scrubbers
Want to make bigger ones? Super easy. After step 7, keep increasing 8 sts each round (next step would be sc 6, 2hdc and so on). Finish off with step 8, changing the "sl st 6" to be the next increase number in your project.
I hope you enjoyed making this quick and easy project. I would love to see your creations. Please add your project to Ravelry and/or share online and include #snappytots.
Thanks for crocheting with me!
~ Heidi