Whether or not you are a football fan, you probably know someone who loves this time of year… preseason has finally started! My husband is a huge Broncos fan and has been on a countdown for months. Since Super Bowl ended I have heard "is it football season yet?" over and over.
I am a Peyton Manning fan. Now that he has retired I don't follow the games as much.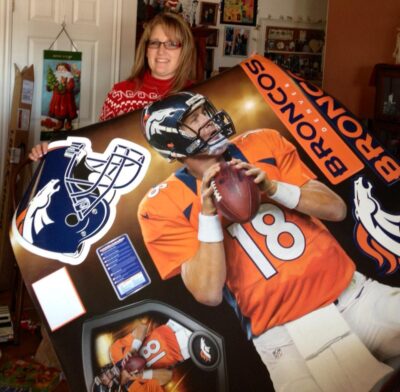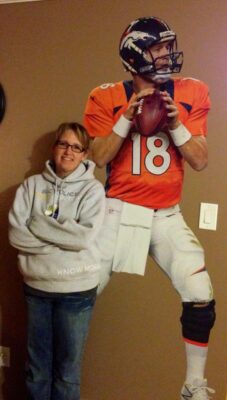 Yep that's me with the best Christmas present ever! I LOVE Peyton Manning and my sister gave me this awesome Fathead. He used to up each fall and and come down after the Super Bowl. We got lots of fun comments and many friends want their picture taken with him.
Munchies and Projects
Football games also mean crochet time and snacks. Since I am trying to eat healthier and slim down I will be snacking on veggies and fruit. Here are some to try.
Here is one I definitely want to try! Football Pudding Cups looks delicious and easy to make. Thanks to The First Year for this idea and recipe.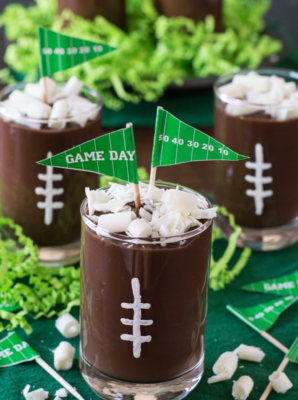 I hope you will enjoy making some of the crochet projects and yummy snacks I've rounded up. Some of the patterns are by me and others are from some of my favorites. Links are listed below with even more after that.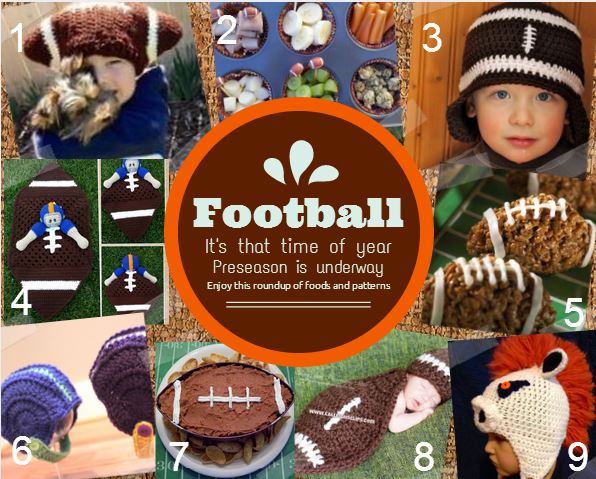 Football Hat by Snappy Tots: This pattern has been a best seller. It is a unique football hat, plus includes instructions for a bag, baby prop and bowl cover. Perfect for game day parties. (Pattern is on sale for a limited time).
Muffin Tin Snacks by Muffin Tin Mom: I think I hit the jack pot with this site. Totally loving her muffin tin ideas and these snacks trays are genius!
Crochet Football Free Hat Pattern by Micah Makes. Micah's patterns are awesome and I know you will enjoy this one. The shape is original and super cute.

Football Lovey by Snappy Tots: I love how this lovey turned out. The football shape is fun and can also be used as a placemat. The football guy is great on hats too. Instructions for a cheerleader version included. (Pattern is on sale for a limited time).

Chocolate-Nutty Rice Crispie Football Treats in a round up by Cute Foods for Kids: another great site, especially if you have kids. These football shaped snacks are the perfect addition to any game day party and for fans of all ages. The recipe for these treats was not available but there are many similar recipes out there that could be made into footballs.

Crocheted Football Helmets: What a fun hat for fans. It would be cute as part of a football player Halloween costume. Pattern is by Breezybot. Check out the cute versions by Repeat Crafter Me too.

7 Layer Dip from Kitchen Fun with My 3 Sons: YUM! We love 7 layer dips and what a clever idea to put it in a shaped pan.

Football Cuddle Cape by Calleigh's Clips: Now fans of all ages, even wee ones, can show their team spirit. This photo prop is perfect for first photos.

Miles the Horse by Snappy Tots: Being Broncos fans, we needed an incredible hat to wear. This includes instructions for making an easy mane that will stand! Makes a great zebra too. (Pattern is on sale for a limited time).
More Snappy Football Patterns

Patterns available from: Ravelry Shop, New Snappy Pattern Shop
More fun patterns
Sports Team Dog Hoodie by Posh Pooch Designs: Furry friends can show your fan spirit in a crocheted sweater made in your choice of colors.
Tapestry Football Mat by Crochet n Crafts: I have to find time to make one of these this fall. I would add a border in blue and orange of course.
Do you have a favorite snack for game days?
Please share a link below to your favorites.
Pin to Save For Later