Finding an easy to follow pattern, especially for beginners, can be tricky so when I received this new book, "Crochet Cute Critters: 26 Easy Amigurumi Patterns" by Sarah Zimmerman, I was excited to check it out.
So far, the book is getting great reviews and I totally agree with so many of the comments I have read… but wanted to check for myself and actually make a project.
The Contents Page is FABULOUS
Each critter is shown so you can quickly browse the book and see their cute little faces. LOVE this! I used this to choose which ones I want to make.
All The Basics in Pix
Whether or not you have tried making critters (amigurumi) before, this book is packed with how to pix and tips. Everything from start to finish and supplies is included. Such a great resource.
But How Are The Instructions?
Yes it IS a cute book. The critters are adorable. The pictures are super helpful. Tons of variety. The shape and size of the book are even awesome. But what about the most important part, the instructions? I decided to give it a try so you could find out more.
Looking through the pix I decided the owl head would be cute all on its own. I chose a colorful yarn to make the project even quicker and here is my result.
Isn't he cute? Based on "Oswald the Owl" from the book, I made the head as written.
The pattern was really easy to follow and the steps are included in the book in case some of the terms, like "magic circle", are new to you. Since I did just the head I didn't need her instructions for finishing an amigurumi, but I did look through them and they are super helpful.
The first eyes I made ended up really big (my gauge must be different from Sarah's) so I just went down a hook size and whipped out another pair.
I put a flat rock in the bottom for weight, stuffed him up and he will be a pin cushion buddy on my work table.
Even More Than 26 Patterns
Since Sarah has included such a wide variety of critters, so much more could be made!
Mix and match the pieces and change yarn colors to create other animals too. A cow and pig first come to mind.
Several of the heads would be cute as key chains clipped to backpacks.
Since these represent each letter in the alphabet, they are the perfect way to teach the ABCs by embroidering a letter on each tummy.
How To Get The Book
Crochet Cute Critters is now available for pre-order on Amazon!
About The Author
Sarah Zimmerman is the creative force behind "Repeat Crafter Me". She has TONS of wonderful projects on her blog and is always coming out with another fabulous design. Follow her on social media: Facebook, Instagram, Pinterest.
Giveaway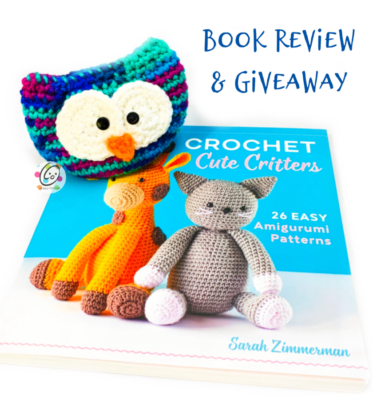 Rock Ridge Press is going to give one lucky snappy reader a copy of this book! How awesome is that! Good Luck and hurry! Giveaway closes 8/16/19.
Please be aware the giveaway is open to people with United States shipping addresses only.