Our annual "Countdown to Christmas CAL" has begun and many have been asking about ornaments from our past round ups. You can check out the last countdown CAL and our Crochet Ornaments Pinterest board (huge thanks to the wonderful peeps who add to the board).
One of my favorite ornament designs is from Donna of "You Drive Me Crafty". She volunteered to make ornaments last year and they turned out so dang cute! The pattern is free!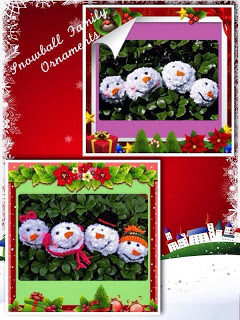 These remind me of something I saw in an old Hallmark flyer. Her's are so much cuter, with tons of personality. Whether you create your own "indoor snowball fight" or make fun new ornaments for the tree, I know everyone will enjoy these squishy soft balls of fluff.
Speaking of Donna, she also has an amazing food blog I LOVE to follow. "My Favorite Recipes" is full of food you actually would want to make AND eat. Not just those foo foo things that only June Cleaver made.
My husband has been on a kick lately that he thinks "we" should have a tradition of making fudge at Christmas. Well, several years ago I used to cook, but then became a single mom and "ffy" (fend for yourself) became the most popular recipe in our house. I am gradually working back into the cooking stage and so turned to Donna for a tried and true. She sent me a link to an interestingly odd concoction that did not seem fudge-y. Guess what?? It worked! I made fudge today. Of course it was while everyone was asleep. 2 reasons: 1. if it was a massive failure I could destroy the evidence and 2. if it really did turn out I wouldn't have to let on that it was derived from 2 ingredients!
Look how cute and yummy it is! Totally looks and tastes like fudge! Thanks Donna for making my family think I slaved away on their behalf with "2 minute fudge".