I love looking for different color combinations and often share a "color inspiration" palette on my facebook page. I have decided to bribe people to use the palettes and share pix for a chance to win patterns. This week's palette was shades of blue.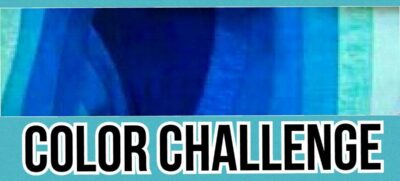 I decided to make a scrubber in similar shades.  I LOVE how the colors turned out.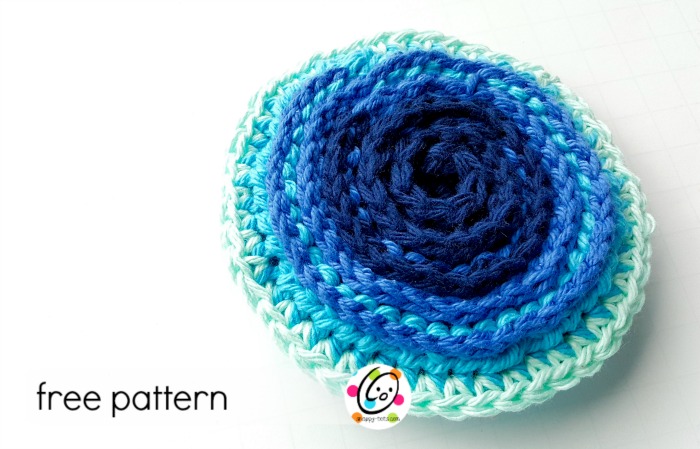 Super Scrubbies
Materials and Details 
Yarn: cotton yarn
Crochet Hook: J
Other sizes of hooks, G-K, could be used instead. Finished size will be different.
Measurement: 5″ circle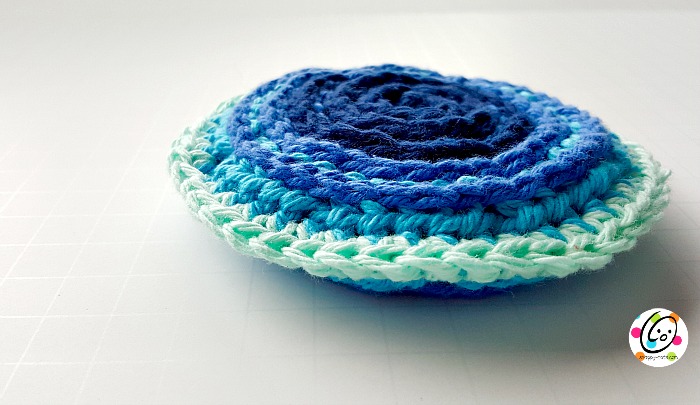 Directions (make 2)
Instructions are written with color changes for making the main sample.
With a J hook and dark blue yarn, start with a magic circle of 8 hdc sts (or preferred method for starting a circle of 8 hdc sts), pull closed and place marker for working in the round. Do not join. (8sts)
Work 2 FPHDC around each post from previous round. (16sts)
3. FPHDC around next post, 2 FPHDC around next post, repeat to end of round. (24sts) Change to medium blue yarn. The best way to do this is to finish off the last st of this round with the new color.
4. FPHDC 2, 2 FPHDC around next post, repeat to end of round. (32sts)
5.  FPHDC 3, 2 FPHDC around next post, repeat to end of round. (40sts) Change to light blue yarn.
6. FPHDC 4, 2 FPHDC around next post, repeat to end of round. (48sts)
Finish off and pull all yarn tails to smooth side of piece.
Assembly
After two pieces have been made, stack one on top of the other, smooth sides together and yarn tails tucked between the layers.
Attach yarn to a st of the last round. Ch 1. Working through stitches of BOTH layers/scrubbers, sc around edge, sl st to join. Finish off and pull yarn tail between layers.
Please contact the designer with any questions, comments or concerns. Help with this pattern is available through email. [email protected].
Items made from Snappy Tots' patterns MAY be sold. Please include a link to snappy-tots.com if selling online.
Making variations from this pattern is great, but the pattern may NOT be sold. ALL parts of this pattern belond to Snappy Tots.
~~~~~~~~~~~~~~~~~~~~~~~~~
All text and graphics/photos are Copyright ©2016 Snappy Tots by Heidi Yates, all rights reserved. No pattern may be reproduced or distributed, in part or whole by any means, without written permission. Finished products created from this pattern may be sold. Please include reference to www.snappy-tots.com as pattern source when possible.