Occasionally I run across a designer and wonder how I didn't find them sooner. Sheesh my hermit rock might need a couple windows. One such designer is Stacy Rhoads of Too Yarn Cute Crochet AND Too Yarn Cute Crochet Magazine. She asked me if I would be interested in submitting to her magazine. I am usually a little hesitant to venture out from under my rock, but did some checking into her mag and was excited to be included. My snowman scarf was in her December issue and I have followed her issues ever since.
One thing that stood out about Stacy was her reasoning behind forming the magazine. When asked about it she always makes it clear that she likes to give other designers a voice. "I want to offer a platform for other designers to get exposure from the readers we have to boost their confidence." What a great philosophy. I hope you will enjoy reading about her and check out her sites listed below.
Now it is Time to Crochet with Stacy from Too Yarn Cute Crochet.
What do you sit on when you crochet? 
I crochet in my BIG COMFY Recliner! Its actually called a "Big Man's" Chair, but I love cuddling with my kiddos when I crochet!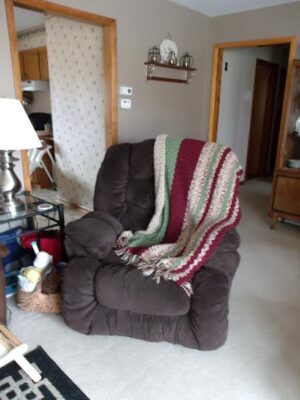 What is the area like? Family room, craft room, lots of light, pretty dark?
I crochet in my living room, in above mentioned chair. Our living room resembles a coffee shop with tan walls, brown furniture and candles. We have Ansel Adams artwork on our walls.
Do you watch tv or listen to music while you crochet? If so, what's on?
When I'm crocheting or working on the laptop for the magazine the tv is usually on. I watch shows like Days of our Lives, Grimm and Once Upon a Time.
What do you keep your supplies in and what's in there?
I have a very old basket that was handed down to me from my Mom. The basket has been in our family since my great grandparents.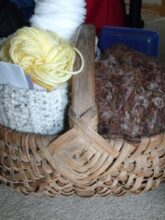 What is your favorite brand of crochet hook? What size do you use most?
I use Susan Bates, Size I hook for most patterns, and lately I've been using Size F hook for making the animals for a new line of loveys that I'm coming out with!
Some personal info:
I am hearing impaired and legally blind. My vision has slowly deteriorated since I was 14 years old. I was able to drive until I was 24, boy do I miss jumping in the car and taking off… Shortly after I had to surrender my license my grandmother died of pancreatic cancer. Anyone who knows what pancreatic cancer does, it took her life very quickly, but I am extremely thankful that I was able to say goodbye before her last breath. It was very hard on me, as it is for anyone. My grandmother crocheted, as well as my great grandmother and I had regrets of never taking the time to ask them how to do it. I was one of those typical kids that thinks their grandma's aren't "cool" or I was just too busy doing "boy" stuff on their farm. I sure did love getting dirty and running after chickens and ducks! I decided at that point I was going to teach myself, I always felt that my grandmas were right there with me guiding me through the frustrations of making a consistent chain. As I've gotten older, my vision has deterioriated down to a tunnel smaller than a paper towel tube. I realized looking back, all the patterns I had written down needed to be typed up so I can leave something to my kids or grand kids. So, I started to type them up and that started the ball rolling for creating more patterns for myself. I then met a lovely woman, Tera Kulling of Trifles N Treasures, who saw my Rudolph Hat questions I had for making the eyes and she gave me the push I needed and the confidence to start sharing with the world all my patterns. I still, to this day, have this insecurity that no one would buy or use a "blind" person's patterns. I'll be the first to admit that I have anxiety when I push the "publish" button! Because of Tera's gentle nudge, and the help of several women, I now have a digital Crocheting magazine! I want to offer a platform for other designers to get exposure from the readers we have to boost their confidence.
I'm married and between us both we have 6 kids! 4 boys and 2 girls! 19, 17, 16, 15, 6 and 4. We are also brand new grandparents to an adorable (of course!) baby girl. My youngest son, 4 years old, has been placed on the Autism spectrum and our lives are about to get extremely busy with Early Education for him to target Occupational Therapy and Speech Therapy.
Current Magazine Issues Available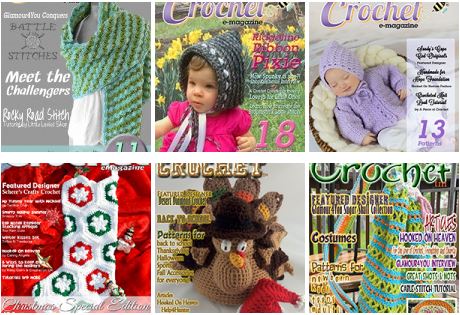 Check out her patterns too: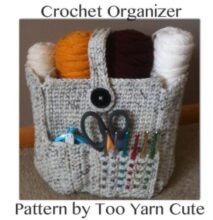 When its time to crochet, where will YOU be? Please post below and let us know. All posts made by 5/31/14 will be entered for a chance to win an issue of Too Yarn Cute Crochet Magazine. Thank you to Stacy for donating an issue!