We love Halloween and it is fun putting costumes together. My kids have always had a hard time narrowing it to just one costume and often had two, one for school and one for trick or treating. It is just too hard to decide, right? One of our favorites was when my husband wanted to be Mr. Incredible. My daughter even dressed up with us.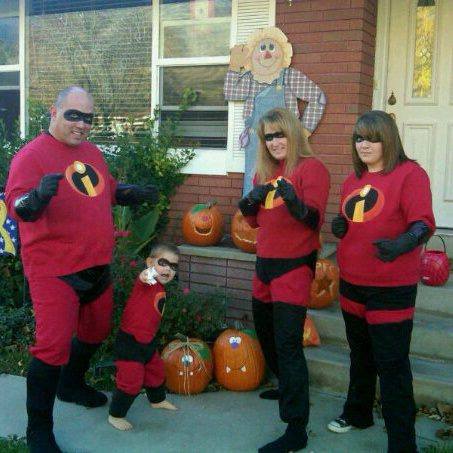 My sister-in-law gets to dress up in a different Halloween costume 5 days a week for 11 weeks, starting in August 23rd. She is a store manager for Savers and WOW do they go all out for Halloween! All of the employees dress up, but it's not just to add a fun atmosphere. The store brings in a TON of costumes and even has a "costume consultant" on staff to help you put things together. They have decorations too.
Every day my sister in law posts a picture of her daily work attire and I love seeing what she will be. I asked her if I could share her pix with my peeps because many of them are super cute and really easy to pull together from things around the house. I hope you will love her different looks too 🙂
If you have a Savers nearby you definitely will want to check it out. They have so much more than Halloween. It is a really great thrift store and has new items too. Plus, they help their communities.
… and no, I am not getting paid to write this… I just love thrift stores and think it is cool how they celebrate my favorite holiday in such a big way.
Want to find a Savers by you? Click Here to find a store.
If you can't make it into a store, check out the Halloween section on their website for lots of of ideas.
Quick and Easy Costumes
Group Costumes