Messy bun beanies have taken over! I swore I wasn't going to jump on the bun wagon. I have ponytail hats and convertible beanies that work great for messy buns too. But then, after seeing hat after hat after a gazillion hats show up I decided we needed a whimsical snappy version.
Messy beanie buddies were born and are for everyone too! I'd love to see you make one.
The pattern is on sale for a limited time: https://www.ravelry.com/patterns/library/messy-beanie-buddies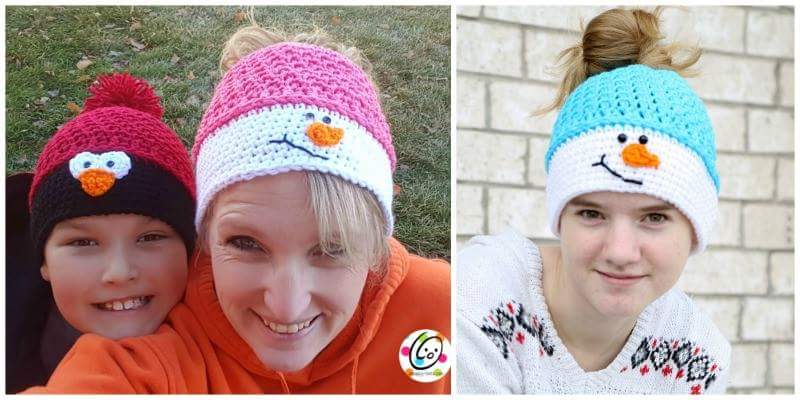 Messy Beanie Buddies
A messy bun pattern with a snappy, whimsical twist. On sale for a limited time.
Includes lots of variations to use for the whole family (boys and men too!). Messy Bun AND Regular top included.
Options: open top messy bun/ponytail, regular beanie top, snowman and penguin band bottom, an everyday version with character band. Your messy bun is the ski hat's pompom top!
I already have an everyday version on my hooks or my dil that will be here friday.
Share your snappy selfies for a chance to win prizes. My new messy bun beanie is out and I'd love love LOVE to see pix of people wearing them! So I'm bribing =)
Post a Pic for a chance to win a snappy pattern
Here's what to do:
Make a beanie (with or w/o the bun opening) from my "Messy beanie buddies" pattern.
Take a selfie and share on Facebook or Instagram with #snappytots and a link to the pattern in the comments.
Once the pix start showing up I will start daily giveaways. The more pix, the more I'll give away. How will I see them? By that #snappytots =)