I often get asked how people can help others through their hobbies of crochet and knitting. There are many wonderful charities that accept donations. There are also ways to help others by showing support of different causes and occupations.
Showing Support
Earlier this fall I received a wonderful package from a friend (and small business owner). She sent my family many thin blue line paracord key chains, a bracelet and a locket. We each put them on our key rings and my son put one on his backpack. He claimed the bracelet and the locket, of course, is MINE. These are a GREAT way to show we support law enforcement.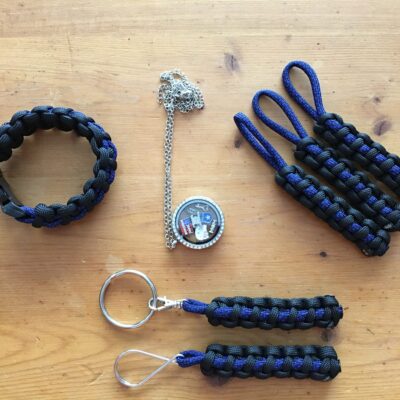 Christeen makes them in a variety of colors to support different agencies. She also has ribbon key chains.
Visit Christeen's Custom Crafts: Facebook 
** Due to the fires in Tennessee, $2 from EACH bracelet and key chain sold up until Christmas will be donated to help the people in Pigeon Forge and Gatlinburg recover from this horrible loss.**
These would make AWESOME stocking stuffers!
Keychains – $5 each plus shipping (free shipping on orders of 5+ keychains)
Ribbon Keychains – $6 each plus shipping
Parachord Bracelets – $7 each plus shipping.
Custom orders welcome.
I hope you will check out her page and consider ordering. They are well made and I am amazed how inexpensive they are.
---
As you may know, my husband is a Detective with our local Sheriff's Department. Over the past eleven years I have developed a HUGE appreciation for law enforcement and all emergency personnel. We have lost so many of these dedicated men and women. To show our support, we fly a "thin blue line" flag.  After attending a few police funerals, I decided to make a "thin blue line scarf" to wear to also show my support. Such a small thing considering the sacrifices made by so many.
Unfortunately, I wore my scarf this week to the funeral of a local officer.
Right before Thanksgiving, a local Hwy Patrolman passed away after being hit by a car while warning traffic of a down power line (read about it). He leaves behind a wife and three young boys. I can't imagine. They received an enormous amount of support by the local agencies, as well as the public. It was truly touching and I hope this beautiful family knows how much they all mean to our community.
If you would like to support this young family, please use THIS LINK when making an amazon purchase. A percentage of your purchase, at no extra charge to you, will go to them.