I made my grandson a pillow that he can tote around as a backpack too. It has pockets for his treasures 🙂
This "Nap Monster" will be flying to NC this week. I hope he will love it.
The pattern is really easy to follow. I used Bernat Maker Outdoor yarn in solids and Stripes but you could use other super bulky yarns. 
If you want to make one the pattern is only $1 this weekend.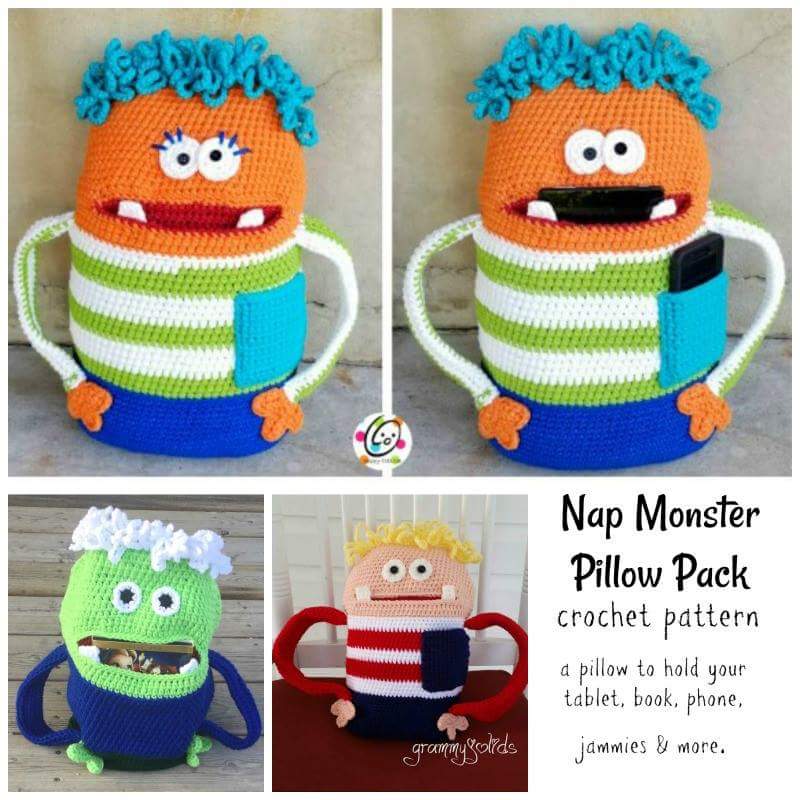 BRAND NEW snappy MONSTER pattern is now available and only $1 this weekend (reg. $4). Offer ends 7/22/18. No coupon needed. Discount applied in cart.
Nap Monster Pillow Pack: take a nap and let him hold your stuff, then put him on your back for your next adventure.
Click here to add the pattern to your Ravelry favorites or purchase. 
Instructions included for making a large pillow from super bulky weight yarn and a smaller one from worsted weight yarn. These have pockets to hold a cell phone, book, jammies, tablet (larger pillow only) and can be worn as a backpack.
"Arms" can be made shorter if just a handle is desired.