This week, I am honored to share someone I have looked up to for many years. Sandy Powers of Sandy's Cape Cod Originals has been an inspiration to me in many ways. To me, she is the guru of baby crochet, featuring many amazing baby cocoons. The more I stalked her in preparation for this article, the more I fell in love with her not only as a designer, but as a business woman too. She is a BIG FISH in a BIG POND, yet still takes time for this little minnow.
I consider many of Sandy's designs to be favorites, but here are some I dearly love:
Now It's Time to Crochet with Sandy Powers.

Where do you crochet?
I crochet at my messy, unorganized computer table when designing, which is most of the time. I sit in a grey office chair at one end of the living room. I am surrounded by bags of yarn most of the time. I try to put away my yarns when I am finished with a project, but the yarns just keep multiplying on their own. It is a never ending problem. I can try to give you a visual picture of what is on my desk right now. Starting left to right. I have two almost finished projects that are going in my next book, I have wings to another project for the book, I have 5 bottles of medications. I only need 2 on my desk. I keep them here because I need to remember to take 2 of them every morning. I don't know why I have 5 different bottles here. I also have eye drops that I'll be needing in a couple of weeks as I have fluid behind my eyes and they need to aspirate them. I'll need the drops for afterwards. I have my little pouch that holds all my debit cards and medical cards. It is only my desk because we are always ordering out for supper, so the pouch sort of stays on the desk. I just scanned and mailed my tax info to my accountant and all those papers are on my desk. I also have a half eaten bag of Cadbury eggs! My camera, a glass with a bunch of pens, crochet hooks, and sissors. A tape measure. A coffee from Dunkin Donuts. A wedding card that I need to put money in and get it to the bride and groom that got married about 6months ago. I have lots more on my desk, but I'm too embarrassed to admit to much more. LOL.
I also sit right next to the large screen tv that is in the living room. I don't usually like to have the tv on most of the time. It makes it hard to think and it seems when I'm trying to count something comes on the tv that has someone saying numbers out loud and it messes up my count. When the kids were little I hated it when Sesame Street was on and the Count was counting or if they were just counting up to the number of the day. But sometimes I like to watch the shows that I missed during the week. So I'll pull up On Demand programing and watch shows like The Little Couple, Duck Dynasty, Downton Abby, Game of Thrones, and yes I like to watch Honey Boo Boo. I can't stop watching it..LOL. At night time I like to sit on my couch and work on something mindless like an afghan or hats. I like to donate to the maternity ward of my local hospital so I work on stuff for them at night.

What is the area like?
It is sort of dark where I sit. I need a lamp on all day. I am stuffed in the corner and do not have enough room to move. I am in the line of traffic too. I am constantly pulling my chair in so people can get by me. We are planning on rearranging the living room and I'll be moved out of the line of traffic. Can't wait!
What do you keep your supplies in and what's in there?
I have lots of plastic pull out drawers filled with yarns. I had a nice room all to myself to hold all my photo props, yarns, materials, hooks, glues, craft supplies etc. But my 82 year old mother is moving in and I had to get rid of almost all of it. I have 2 tiers in my bedroom and some in a storage area in the basement. I am also known as the bag lady. I always carry a bag with yarns and hooks to all my appointments. These bags also multiply on their own. I don't know how I have collected so many of them. My favorite bag is blue quilted and the print is Noah's Ark. I have hooks and tape measures in most of my bags. So I am constantly purchasing more hooks to put in more bags. LOL
What is your favorite brand of crochet hook?
My favorite brand of crochet hook is Susan Bates. I won't use anything else. I use H the most.
Inspiring words from Sandy:
I had posted a question on my facebook asking customers if they could ask me anything what would they like to know. One question touched my heart. I cried through the whole answer and I would like to share it with all of you. She asked. . .
If you could tell your beginner self something about how far you would go, what would you tell yourself?
I would tell my 18year old self first don't listen to the people that tell you that your crocheting is junk, don't listen to the people that say your crocheting is a waste of time. You have a passion for crocheting. Don't give up your passion because others say so. Don't be afraid to try new things. Don't be afraid to start your own business and don't be afraid to design you own crochet patterns, because one day sweetie you are going to be famous! And you can tell all those people thank you for all the obstacles they gave you because they all made you more determined to get where you are.   p.s. Some of those people are now in awe of what you have accomplished. Don't let anyone take away your dreams.
I know there are some ladies reading this advice and can relate to what I went through. You go girls!
Please visit Sandy's many wonderful sites. I know you will enjoy each and every one.
Here are some of my favorite designs by Sandy:
Sandy is the featured designer in the "Just for Baby" issue of Too Yarn Cute Magazine. It includes a wonderful article about her, plus some of her patterns. There are 13 patterns plus a tutorial on the knit look, from a collection of talented designers. The magazine is a definite bargain. I subscribed for 6 months so I won't miss a single issue!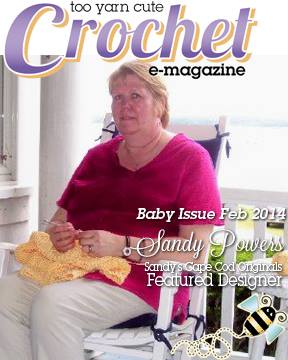 When its time to crochet, where will YOU be? Please post below and let us know.