In January, I started working more on this blog and  joined a great group of very talented bloggers. One of which is Kate Wagstaff of Crafting Friends Designs.

I had seen her beautiful designs before and have been a fan of her page, but only recently discovered she lives less than 20 minutes from me! She specializes in children's clothing, creating beautiful dresses and accessories. One thing that has always stood out to me is her pictures are amazing. I hope you will take a few minutes to find out more about this lovely designer.
Now it is Time to Crochet with Crafting Friends Designs.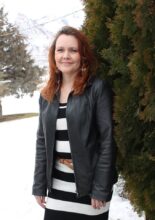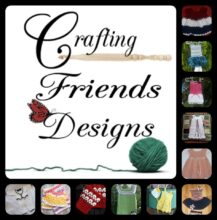 ~ Describe your crochet area to us. What do you sit on when you crochet? 
My usual place to crochet during the winter is on our big ole brown leather sectional couch that we bought last year.  Prop up that foot rest, pack my books, yarn, hooks and tablet next to me, turn on a good tv series or movie and I'm set.  Ok, ok,  I'm set for about 5–10 minutes until one of the little munchkins needs a drink or diaper change.  If it's nap time – then I'm set.
~ What is the area like?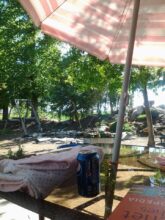 During the summertime,  I park myself on our comfy Orange patio chairs under the umbrella or on our porch swing, and yes,  I have to prop my feet up.  It's a funny thing about being short,  those big chairs that everyone else finds just right,  do not allow me to touch my feet on the ground, so I usually kick my feet up on another chair.  One of my other hobbies is gardening, so the patio is surrounded by lots and lots of flowers including roses, mini carnations, lilies and  Oh the Lavender, wonderful it smells.  I turn on our waterfall  which we built into the hill by our huge trees for some sounds of nature and usually a good audio book like Harry Potter (Yes, I'm a Harry Potter freak but Jim Dale is amazing on the audios) or even some Country music – the good ole Country music, not the wannabe singers they have started calling country in the last 5-10 years.  The kiddos get to run around and have fun and I get to relax and enjoy nature in my own yard.
~ Do you watch tv or listen to music while you crochet? If so, what's on?
Oh heavens, anything with Kiefer Southerland – Touch and 24 and woo hoo, I just read that 24 is coming back in May!  I love, love, love The Big Bang Theory and have to laugh because my husband has the same issues as Sheldon when it comes to where he has to sit on the couch.  I watch a lot of things on Netflix since we don't have cable or Dish,  so my list is quite long right now.  Downton Abby, Revolution, Under the Dome are a few that I've caught up on lately.
~ What is your favorite brand of crochet hook? What size do you use most?
When it comes to hooks, I'm a Boye gal!  I currently have 1 D, 1 E, 3-4 F's, 3 G's, 2 H's, and 1 of each of the larger.  For many years, my go-to hook size was an F – for EVERYTHING.  Recently,  I have switched over to using the H more, so I'm moving out of my shell.
~ What else would you like people to know about you?
For 25 years, I made lots and lots of afghans, 100 to be exact.  That was my comfort zone.  My grandma would crochet up some amazing things for us and I would always think she was so talented to work so many things. She had a wonderful selection of Hooked on Crochet magazines (which she has passed on to me) that I would look through and see crocheted clothing and it intimidated me.  I was always afraid that I would start a clothing project, put the time and materials into it and be VERY disappointed that it ended up all screwy wonkers.  A few years ago,  I decided it was time to get over that fear, so I downloaded the Angel Wing Pinafore from Bev's Country Cottage and worked 1 up.  Oh My Goodness!  What was I afraid of???  What  fool I felt!  Because of that,  my first clothing designs were written with the beginner crocheter in mind.  I didn't want anyone to be intimidated like I was.  It's a bonus that I have 3 little girls who I can dress up in my designs and even better that they are my biggest fans and love everything they get.  They are my inspiration and joy in crochet.
~ New Adventure
Recently Kate started "Battle of the Stitches".


About the battle: "The theme for the Battle was Mother's Day.  The designers were asked to design something using the Rocky Road crochet stitch that they would give as a Mother's Day gift OR something that they themselves would like to receive for Mother's Day." The entries were revealed and it will be exciting to see who the winner is! Check out the wonderful projects on Kate's site. All patterns for their entries will be available in a special edition of Too Yarn Cute Crochet Magazine on April 11th.
~ Find Crafting Friends Designs online:
Check out her patterns, specializing in Infant, Toddler and Child size clothing and a variety of other designs. Here are some of my favorites:
When its time to crochet, where will YOU be? Please post below and let us know.